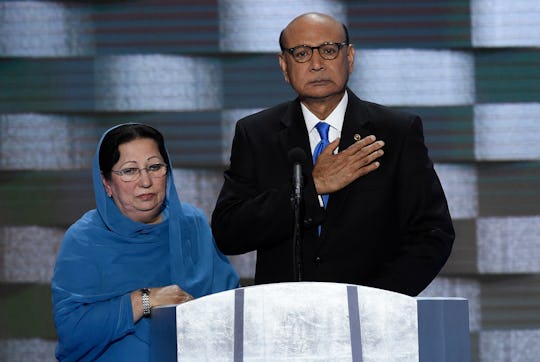 SAUL LOEB/AFP/Getty Images
How To Read Ghazala Khan's Op-Ed & Hear Her Message For Donald Trump
Khizr and Ghazala Khan stood proud and tall as Muslim Americans, speaking against Donald Trump at the Democratic National Convention on Thursday night. Khizr spoke about losing their son, Capt. Humayun Khan, and urged audience members to support Hillary Clinton. As Khizr spoke and an image of their son who died in the war in 2004, was projected on the screen behind them, Ghazala stood alongside her husband — silent and in support of his message. But Ghazala is finally speaking out, and figuring out how read Ghazala Khan's op-ed — after the mourning mother was criticized for not speaking alongside her husband on Thursday night — is crucial.
Khizr's speech at last week's DNC was powerful and the image of two Muslim American immigrants,taking a stance against anti-Islamic hatred was even more moving. Their speech at the Wells Fargo Center in Philadelphia, Pennsylvania garnered attention from people who supported their words, as well as people who did not — like Donald Trump himself, who was called out in the speech directly. "If it was up to Donald Trump, he [Khan's son Humayun] would have never been allowed in America," Khizr said on Thursday night. "Donald Trump consistently smears the character of Muslims. He disrespects other minorities, women, judges, even his own party leadership."
Donald Trump wasn't too happy about Khizr's words and immediately fired back at the Khans, critiquing Ghazala. "If you look at his wife, she was standing there," Trump told ABC News reporter George Stephanopolous. "She has nothing to say. She probably, maybe she wasn't allowed to have anything to say. You tell me."
As it turns out, Ghazala was allowed and did to have something to say — which she made very clear in an op-ed penned in The Washington Post which you can read on the outlet's website. Ghazala puts it best in the opinion's second paragraph:
Donald Trump said I had nothing to say. I do.
Ghazala goes on to give background on her son, Humayun, and the sacrifices he made as a soldier fighting in the Army — and the loss she faced as a mother when he died in Iraq in 2004. Therefore, Ghazala writes, when she stepped on stage at the DNC with the image of her son behind her, she "could hardly control herself" and chose to remain silent.
Ghazala continued:
Donald Trump said maybe I wasn't allowed to say anything. That is not true. My husband asked me if I wanted to speak, but I told him I could not. My religion teaches me that all human beings are equal in God's eyes. Husband and wife are part of each other; you should love and respect each other so you can take care of the family.
Ghazala ends the op-ed on a very powerful and lasting message — one that was reiterated in Khizr's speech just so many days ago. "Donald Trump said he made a lot of sacrifices," Ghazala writes. "He doesn't know what the word sacrifice means."
Ghazala's stance at the DNC alongside her husband was incredibly moving. Her op-ed is just as important.