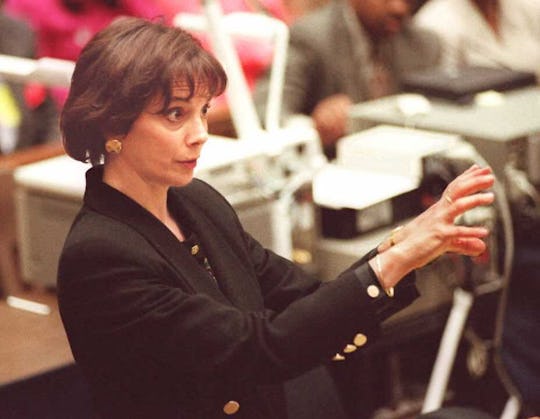 POOL/AFP/Getty Images
How To Read Marcia Clark's Books, In Case 'The People v. O.J. Simpson: American Crime Story' Just Isn't Enough
It's Tuesday night and you know what that means. Yep, it is American Crime Story: The People Vs. O.J. Simpson on FX night. While a new episode of that may be exciting in itself, how many of you are studying other shows or books to get to know more information about the infamous case now that you've tuned in? If you're interested in learning some extra scoop, you may want to check out the case's prosecuting attorney's authorized books. There are quite a few of them, too, so you're probably itching to know how to read Marcia Clark's books, right?
There are nine books and short stories in Clark's collection available on Amazon: Guilt by Association, Without a Doubt, Guilt by Degrees, Killer Ambition, The Competition, Blood Defense, Trouble in Paradise, and If I'm Dead. All of them have pretty decent reader reviews, so you don't need to worry about picking up a dud.
What makes her an interesting author? Clark won 19 murder trials and only lost one during her career as a prosecuting attorney, according to a profile by The Guardian. After O.J. Simpson's acquittal, she decided to shift her focus from law to writing, as her new role as a public figure had thrown her legal career into chaos. Although Clark still "works on appellate court-appointed cases" according to Vulture, these days, it seems that she is primarily a writer. Given her roller-coaster time in the spotlight, that might be for the best.
Clark's latest book, Blood Defense, is set to debut on May 1, and like her other stories, Clark told Vogue that used her own life as something of a template for her characters. In the interview, she explained,
My new series starts with Blood Defense, and the lead is Samantha Brinkman, a criminal defense lawyer who has a kind of twisted view of justice and a very troubled past. I have to say that I did draw on life experience. The cases I've handled on both sides of the counsel table are interwoven into all of these stories.
Of course, with American Crime Story quickly becoming one of the nation's most riveting shows, it would have been easy to lose herself in her own characterization on the FX hit, or sit back and let the show explain away the inner workings of the Simpson trial, but according to Vogue, Clark isn't sitting idly by. In that same interview, Clarke mentioned that she would be re-releasing her original 1997 memoir, Without a Doubt, with a revised foreword.
Still, it seems that the former prosecutor has enjoyed the fact that the show has drudged up important plot points in the original case. Clark told Vogue,
To me, one of the big silver linings of the Simpson trial is the advances we've made in understanding domestic violence as a lethal problem. Before that trial, I think there was a widespread sense that it was a family affair, a normal part of a relationship, not really a crime. The reality is that it's very much a crime, and a very serious one. I wanted to mention that: Something good did come from the trial at the end of the day.
If you're hoping to get an even deeper look at a few of those details or gaze into the behind-the-scenes drama that inevitably comes with any major trial, pick up one of Clark's novels. Given how much she knows, you won't be disappointed.