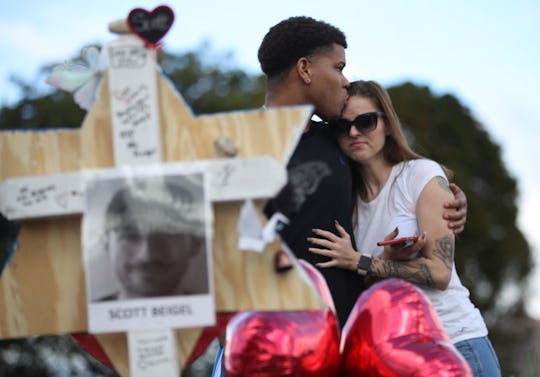 Joe Raedle/Getty Images News/Getty Images
How To Register For The March For Our Lives & Help Support The Movement
It's been a little over a week since a gunman shot and killed 17 people at the Marjory Stoneman Douglas High School in Parkland, Florida, and in that time the brave survivors have been speaking out, and emerging at the forefront of a powerful — and incredibly necessary — political movement. On March 24, students and supporters from around the country will come together for improved gun safety legislation in order to prevent further shootings, and if you want to help, here's how to register for the March For Our Lives. Supporting the march is easy to do, yet it has the potential to make a huge impact.
There is nothing at all simple about organizing a nationwide network of rallies and political marches — particularly when you're also appearing on national television to speak out against the National Rifle Association and the politicians who support it, while also trying to recover from the trauma of being involved the ninth deadliest single-day mass shooting in United States history, according to CNN. But the students behind the march are doing an incredible job mobilizing the country's outrage and directing it toward something that could actually, finally, make a difference.
Right now, the best place to get information about the march is at the official website, MarchForOurLives.com. In the past few days alone, the site has provided a great deal of updated information, including a link to the official Facebook event page for the main March For Our Lives event in Washington, D.C., links to donate to the cause or buy fundraising merchandise, as well as links to the group's official social media accounts.
While there are still many more details to be worked out, the March For Our Lives website is also where anyone interested in joining can register. On the site's "March With Us," page, there is a form that will allow supporters to sign up to receive updates, and for those not able to attend the march in Washington, there is also a link to a list of Facebook event pages for sister marches around the country.
If there isn't yet a march planned in your community, March For Our Lives organizers are encouraging anyone interested in leading a sister march to absolutely go ahead and do so. For now, the best starting point appears to be creating a Facebook event page or an Instagram account to spread the word about the community march, though March For Our Lives organizers have indicated that more information for community marches, including permitting details, toolkits, and merchandise will be coming soon. And if you do start a page for a local march? Be sure to leave the details on the main March For Our Lives event page, so that it can be added to the list of sister marches for others to find and join.
According to the March For Our Lives mission statement, the organizers' goal is pretty straightforward: as they march in Washington and throughout the country, students and supporters will be "[demanding] that a comprehensive and effective bill be immediately brought before Congress to address these gun issues," so that they can finally stop fearing that they could die in yet another mass shooting. And although that might be an issue specific to the United States, marches are already popping up in other countries in solidarity. So far, there will be a march in London at the U.S. Embassy, and there is another planned in Toronto, Canada, at the U.S. Consulate.
Celebrities have also come forward to contribute to the cause, making sizeable financial donations that will no doubt make a big difference. Steven Spielberg and Kate Capshaw, Jeffrey and Marilyn Katzenberg, and Oprah Winfrey have all announced donations of $500,000, according to Variety. George and Amal Clooney have also donated $500,000 in the names of their infant twins, Ella and Alexander, and have pledged to attend the main march in Washington. Coupled with the incredibly impressive fundraising effort the students have raised in their GoFundMe campaign — currently more than $2.1 million — that now means the Parkland organizers have raised more than $4 million for the cause.
As tragic and outrageous as the shooting was, and as much as much of the nation is still mourning, the effort put forth by the Parkland survivors to ensure that lawmakers are finally held accountable for their lack of action is beyond inspirational. And judging by the momentum and the incredible amount of support being sent their way, it seems that the March For Our Lives could be an absolute game-changer that can at long last provide students — and all Americans — with the protection from gun violence they so desperately deserve.
Check out Romper's new video series, Romper's Doula Diaries:
Watch full episodes of Romper's Doula Diaries on Facebook Watch.