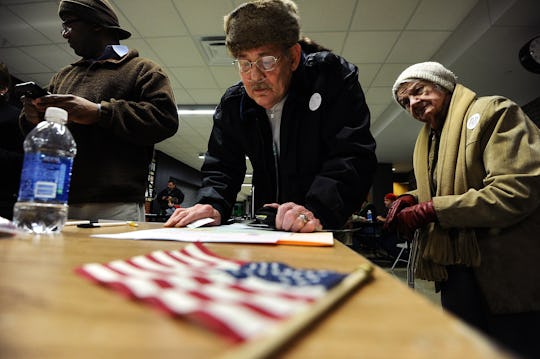 JEWEL SAMAD/AFP/Getty Images
How To Register To Vote In Iowa, Because November Is Quickly Approaching
Election Day is quickly approaching and many Americans are likely double checking their voter registration statuses. It's certainly a good time to do so, given that voter registration deadlines in many states are fast approaching. For residents in the Hawkeye state, it's important to know how to register to vote in Iowa, a state considered a swing state in the election, before the deadline hits later this month.
According to Iowa's Secretary of State website, voters in the state have to have the following qualifications to register:
To qualify to register to vote, you must be: A U.S. citizen; An Iowa resident, and [be] at least 17 1/2 years old (must be 18 years old by Election Day to vote.)
Once you've covered all your bases and checked off the list of voter registration qualifications, there's a few options on how to register. Iowans can pre-register online or download and fill out a voter registration form and return it to a local County Auditor. Pre-registration in Iowa (both online or in-person) ends Oct. 29, which is 10 days prior to the Nov. 8 election day. But if Oct. 29 passes and you haven't registered, you still have an option: Iowans can both register and vote on Election Day as well.
Iowa's State government website lists the criteria for election day voter registration, which include a valid voter ID. Examples of acceptable proof of ID, for those who "do not have an Iowa driver's license," are listed as follows:
Iowa non-driver ID card, Out-of-state driver's license or non-driver ID card, U.S. passport, U.S. military ID, ID card issued by employer, Student ID issued by Iowa high school or college.
Voters can also supply a proof of residence if their photo ID does not have their current address, the site explains. Examples of proof of residence include a residential lease, an utility bill, or a bank statement. Voters registering on Election Day can access the site's precinct and polling place locator to find the poll site where they can register.
If you'd like to get your registration done way ahead of time, check out Romper's convenient Rock the Vote widget below. Romper and its sister site Bustle are teaming up and working together this season with a handful of other brands and outlets on a non-partisan campaign called #OurVoteCounts. The goal is to get 100,000 women registered to vote in the month of October. Aside from the online registration option, Romper and Bustle staff will also be on the ground at various locations helping people register to vote in person.
If you do decide to register by using the widget – make sure to spread the word by using the hashtag #OurVoteCounts on Twitter afterward. You can include the direct link, http://rtvote.com/bustle, as well, for ease of access.
It's been quite an election cycle, and there's still one more presidential debate left. If you're passionate about any of the candidates or what they stand for, it's important to register and read over all of your state's registration and voting criteria ahead of time to make sure you're in the right place with the right materials come Election Day.