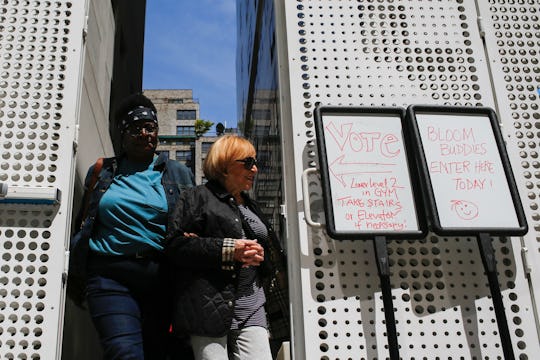 EDUARDO MUNOZ ALVAREZ/AFP/Getty Images
How To Register To Vote In New York, Because It's Not Too Late
If you're just clueing into the fact that you might not be registered to vote in November, have no fear. It's not too late to register to vote in New York, but you'll have to get a move on. The official deadline to register to vote in the state online, by mail, and in person is Oct. 14, so once you watch a few debates, in the immortal words of Nike: just do it.
New York makes it fairly easy to register with some standard caveats: You have to be a U.S. citizen, be at least 18 years old on Nov. 8, live at a New York address by Oct. 9, not be registered to vote in any other state, and not be in prison or on parole for a felony conviction. Also, if you are currently declared mentally incompetent by a court, you can't register to vote in New York. Other than that, though, you're good to go.
So even if your 18th birthday is Nov. 7 and you moved to New York from another state on Oct. 8, and are all cleared by the courts — you can register to vote in this election. Never assume that moving or changing addresses disqualifies you.
Voting online is the easiest option, but only if you have a New York State ID, drivers license, or permit. If you don't have those, which is common, especially for newcomers to New York City proper, you'll have to apply by mail or in person. To apply by mail, you just have to download a form or call 1-800-FOR-VOTE to have one mailed to you. The form asks for your name, birthdate, and address. As long as it's post-marked by Oct. 14, you should be in the clear.
New York was one of the states that had problems getting voters into polls during this year's primaries. There were technical issues as well as man-made problems, like 125,000 Democratic voters in the five boroughs who, for some reason, just weren't on the books at all when they turned up to polling places. But the New York City Board of Elections' said that the mix ups were par for the course. "We're not finding that there were issues throughout the city that are any different than what we experience in other elections," spokesman Michael Ryan told The New York Daily News.
Still, not everyone was pleased. "These errors indicate that additional major reforms will be needed to the Board of Election," New York City mayor Bill deBlasio said, at the time. "The perception that numerous voters may have been disenfranchised undermines the integrity of the entire electoral process, and must be fixed." (The "great Brooklyn voter purge" is still being investigated for their primary practices.)
Long story short: If you register and show up at a polling place and they don't have you on the list, you have to file a complaint there, in person. But you should still do it, even if you're fed up and late for work. Because it's the only way to protest how messed up elections can get sometimes.
If you're ready to register right this moment and can't wait any longer, check out Romper's Rock the Vote widget below; In collaboration with a handful of other brands and outlets, Romper and its sister site Bustle are working on a non-partisan campaign called #OurVoteCounts to get 100,000 women registered to vote this October — and aside from offering an easy to use online registration form like the one below, the team will also be stopping at different locations across the country to help get people signed up that way too.
When you've completed your registration, make sure to talk about it on Twitter (using the hashtag #OurVoteCounts) and link to it (rtvote.com/bustle) so your friends and followers can do the same. Read on to get started:
If you have beef with the New York Board of Elections, that's all the more reason to register to vote, even close to the deadline. The best case is that everything runs smoothly. The worst case? You can go on record about your experience.