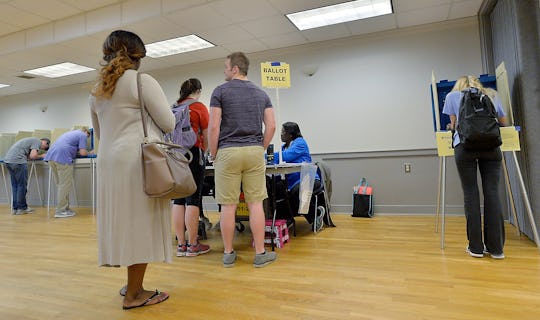 Sara D. Davis/Getty Images News/Getty Images
How To Register To Vote In North Carolina? The State Is At The Center of The Race
North Carolina has become the center of the presidential race. A Sienna College poll shows Donald Trump and Hillary Clinton are tied, 41 percent to 41 percent, among North Carolina voters. If you want to make sure your voice is heard, it's important to know how you can register to vote in North Carolina.
If you're already a registered voter, great! There are no voting laws currently in effect in the state that require you to provide an ID — thanks to the Supreme Court blocking such laws this past July.
However, if you are an unregistered voter you must download the North Carolina voter registration form or request it by mail by calling (919) 733-7173. You will be asked to provide an ID number on the voter registration form – either a North Carolina driver's license number or the last 4 digits of your Social Security number. If neither number is provided, you will be asked show a photo ID or one of the following documents with your name and current address on it: a utility bill (electric, phone, water, or cable), pay stub, bank statement, or any document from a government agency. The completed form must be postmarked by Oct. 14, or emailed or fax by 5 p.m. on Oct. 14.
North Carolina used to be a definitive Republican state, but in the past two elections, Democrats have given the Republicans a challenge and even took over the state in 2008 when Obama won over McCain by less than one-third of a percentage point. Swing states are especially crucial for Trump, who faces stiff competition from Clinton in states that have traditionally favored Republican candidates.
Early voting will be crucial for this year's race in North Carolina. Both Trump and Clinton's campaign offices in the state have volunteers campaigning to get early votes. In states where the race is as tight as it is in North Carolina, getting as many votes as possible early on is important for being able to tell which candidate will take the lead. More than 56,000 North Carolina residents have requested an absentee ballot, CNN reported.
The early voting period begins Thursday, October 20th - 17 days before Election Day. But if North Carolina's voting laws had not been appealed, the early vote might not be as important.
In addition to requiring voter IDs, the North Carolina voting law the Supreme Court shot down earlier this year would have shortened the early voting period by an entire week. The court found that early voting restrictions impacted black voters more frequently because studies have shown they "disproportionately used the first seven days of early voting."
Despite the time-frame for early voting being protected, several North Carolina counties have cut the number of early-voting sites and reduced their hours. For example, Lenoir County, which is 41 percent black, eliminated three out of it's four early voting sites, according to Think Progress.
"Because we have so many working-class voters in our county, it is critical that we offer some evening and weekend hours to enable those voters to participate in early voting," Courtney Patterson, Lenoir County's sole Democratic election board member wrote in a statement, according to the News & Observer. He called such actions "equal to voter suppression."
But there's still time to make a difference. If you are a North Carolina resident and want to make sure your voice is heard in this crucial swing state, register to vote as soon as possible.
Bustle and Romper wants to ensure that women cast a vote. Bustle and Romper have vowed to register 100,000 women to vote between now and Nov. 8.
There are two ways you'll be seeing us work to reach this goal. First, you can use this tool from Rock the Vote, which will be embedded all across Bustle and Romper content from now until November:
Bustle and Romper editors will also be out campaigning to secure the votes of women across the country. Starting in early October, we will be making an effort to simplify the registration process as much as possible for those who have not signed up yet to vote.