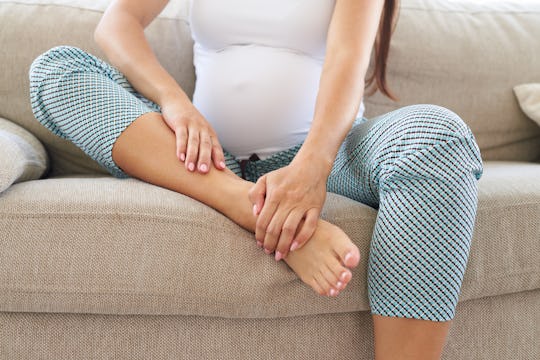 ArtFamily/Fotolia
5 Ways To Relieve Those Awful Pregnancy Leg Cramps Keeping You Up At Night
Pregnancy is kind of shady, isn't it? Sure, it brings you joy and hope, but it also puts you through the wringer with a growing list of aches and pains that get harder to deal with by the day. If you were just expecting run-of-the-mill pregnancy issue like back pain and swollen feet, surprise, you can add annoying, painful leg cramps to the mix. Yes, they're actually a thing, and if you're suffering through them already, you should know how to relieve pregnancy leg cramps.
It's important to understand why you're getting the leg cramps in the first place. Dr. Mary O'Toole, an OB-GYN at MemorialCare Saddleback Center in Laguna Hills, California tells Romper in an interview that sometimes your growing baby and uterus can put pressure on your nerves and muscles, which could cause pain in your legs. The pressure of your baby can also affect blood circulation in your legs, noted Today's Parent, and things like fatigue, dehydration, and mineral deficiencies can also contribute to leg cramps during pregnancy.
Luckily, pregnancy only lasts so long and soon the pains associated with it should subside. Until then, there are a few things you can try to help alleviate and prevent those awful leg cramps. But before using any kind of remedy or treatment on your own, it's crucial to ask your doctor first. Depending on your specific condition and situation, your doctor can recommend a treatment strategy that is right for you.