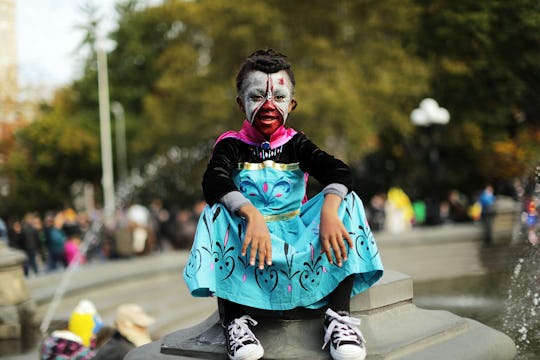 Spencer Platt/Getty Images News/Getty Images
How To Remove Kids' Halloween Makeup Without Enduring More Screams
Halloween is one of the most anticipated holidays amongst kids every year. To be quite honest, it may be even more anticipated by parents because of the many ways they're able to exercise their creative genes. With many families opting to go the DIY route when it comes to costumes these days, many children are choosing to deck themselves out in all the face paint they can find. Since face paint and makeup can be hard to get rid of after the night is done, knowing how to remove kids' Halloween makeup will come in handy come October 31.
I remember one Halloween in the '90s when I went all out as a clown, and my mom struggled to get all my makeup off afterwards. It was an absolute horror show trying to get the white and red paint off of my face. Now that I'm older and I've done it a few times, I've learned that there are plenty of items that can be used to remove Halloween makeup, the majority of which are may even be in the house already.
Of course using regular makeup wipes is an option, but depending on the base of the makeup you're using, they may not be enough. So, whether you have a water, cream, or oil-based makeup idea in mind this Halloween, these seven items should help you get through the removal process quickly.