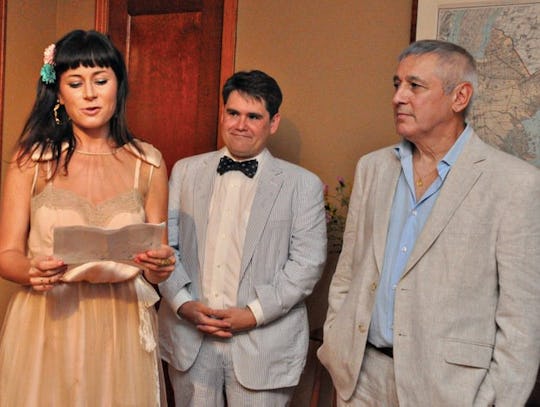 Courtesy of Jill Di Donato
How To Repair A Toxic Father-Daughter Relationship
A girl's bond with her dad is key to her ability to live life as a grown-ass woman, so it's key you learn how to repair a toxic father-daughter relationship, no matter how old you are. For me, my toxic relationship with my dad stemmed from the fact that he was ashamed to be the man he really was. Aside from being my father, educator, beekeeper, and chef, my father is a gay man. I want to stress that the fact that my dad is gay did not make ours a toxic father-daughter relationship. It was the fact that he raised me while living his life in the closet that made him an absentee parent. Plus, any family dynamic that's full of secrets is toxic for everyone in the house, not just dad and daughter.
As I grew from a child to a teen, things got even trickier with my dad, which is normal. According to Psychology Today, kids need to shift their attachment during the period of adolescence from their parents, who are the most important people in during childhood, to others. This is necessary for adolescents to develop healthy attachments with their peers, mentors, teachers, and so on. As adolescent girls mature, they will form romantic relationships with men, women, or both. But because I had an insecure attachment with my dad, making it "toxic," my romantic relationships suffered as a result.
But not all hope is lost. There are many ways you can still repair a toxic relationship with your father and set your self up for relationship success in the future. These are some things that worked for me, and hopefully, they might spark some ideas on how you can fix your toxic father-daughter relationship, or at least give you hope that it's possible.