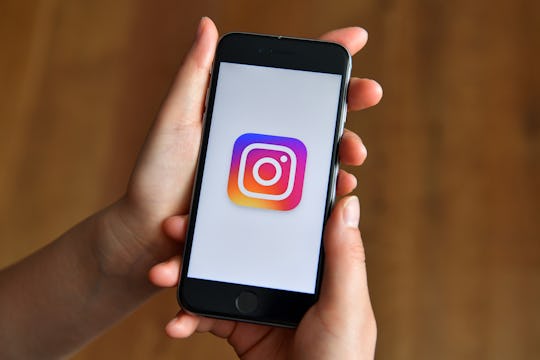 Carl Court/Getty Images News/Getty Images
How To Repost An Instagram, Because Sometimes The 'Gram Is Too Good Not To
Some people are super good at all things Instagram, and understand every single aspect of how to use the social media platform. Others may clumsily put up a photo every now and then, with no idea how to use filters or how to make other edits, and call it a day. And most people are somewhere in between. But even the most seasoned Instagram users may not know how to repost an Instagram, because it's not as easy as it sounds.
With all the options that Instagram gives its users, it's still not all that simple to repost an Instagram. It's not necessarily about stealing content either; some people have multiple accounts, and may want to share an image across profiles. Or maybe someone took a really awesome photo of you and all your friends at a bachelorette party, and you all want to share the 'gram on all your Instagram accounts. But the truth is, Instagram doesn't make it easy to do so from the platform.
Wired reported in March that Instagram's decision to resist adding a "regram" button is deliberate. When a reporter with the outlet asked in August 2017 why Instagram doesn't allow users to re-share posts, Instagram CEO Kevin Systrom replied in part, "We debate the re-share thing a lot. Because obviously people love the idea of re-sharing content that they find...But really that decision is about keeping your feed focused on the people you know rather than the people you know finding other stuff for you to see."
So no, there doesn't currently appear to be a simple function that allows Instagram users to repost an Instagram on the app or website.
Romper reached out to Instagram for comment on whether reposting is an option on Instagram, and received a response from Seine Kim, a member of the communications team. Kim told Romper:
We do not offer resharing posts to your feed as an option on the platform. However, there are ways to reshare in your story. One: you can share someone's post to your story. Two: you can share someone's story to your own story as long as you're tagged in it.
However, just because Instagram doesn't offer reposting as an option on the site or app, besides in a story, that doesn't mean that reposting an Instagram is completely impossible.
There are actually a few ways to repost an Instagram image or video. But they mostly involve using other apps, so you might have to resign yourself to downloading yet another app from the App Store, Google Play Store, or wherever you get your apps for your mobile device if you want to do it.
Repost is one app you can use to repost content on Instagram. It's right in the name. After you've downloaded and opened the app, it lets you copy the share URL of an Instagram post, according to The Daily Dot. Then, after it's been copied, you just go back to the app, and you'll find that you're able to repost the video to your Instagram account. It's really that easy.
You could also screenshot a photo on Instagram that you'd like to share to your own Instagram account, The Sun reported in June. But this is a little bit sketchy, especially if it's not content that you originally posted yourself or that a friend has given you permission to repost.
The Daily Dot also reported that there are other apps similar to Repost that will allow Instagram users to repost a video or other content on the platform. Repost – Photo & Video and Repostly are just a couple of the other available options.
Until and unless Instagram offers a way to repost an Instagram right in the app, turning to a third party for help may be the best option for Instagram users.