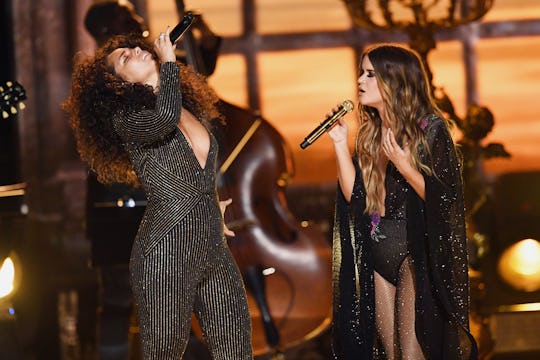 Kevin Winter/Getty Images Entertainment/Getty Images
Watching Alicia Keys' Grammys Performance Is Easy
As predicted, Alicia Keys was unbelievable at the Grammys, performing a heart-wrenching rendition of her song "Once" with Maren Morris. If you're like me, seeing it just once is truly not enough. So here is how to rewatch Alicia Keys' performance at the 2017 Grammys over and over again ad infinitum until the next time she decides to grace us with something incredible.
As predicted, it's really not that difficult. While it's not currently on Youtube, it has been added to the site on Spin. You can therefore watch it and re-watch it to your heart's content. In a world of Beyoncé and John Legend, it can be hard for one iconic singer to stand out. If anyone can, however, it is Alicia Keys and her absolutely heart-stopping voice, and the fact that she made the decision recently to just stop wearing makeup. As a woman in the public eye, this decision was far braver than anyone seems to actually realize. It's been a long time since Keys first became an icon, but boy is she ever back.
She took the stage for her performance in an absolutely to die for sparkly flared jumpsuit and the biggest hair seen this side of 1979. She and Maren Morris' performance was a little more low-key than, say, Beyoncé's was, but it was still absolutely amazing. Perhaps it was even more amazing because it was so low-key. Keys doesn't do enormous staging and crowns and all the rest of that stuff. Keys just makes music. And she does it damn well.
If this little clip isn't enough Keys for you, you still have other options. The day after the show, CBS will post the entire thing online at CBS.com. With this option, you can watch not just Keys, but everyone's performance, including Adele's ridiculously emotional performances and acceptance speeches, and Beyoncé doing what Beyoncé does and slaying everything in her path.
And it won't be long until the performance is on Youtube, where you can re-watch on repeat if you want. And hey, it's not like I would really blame you if you did.