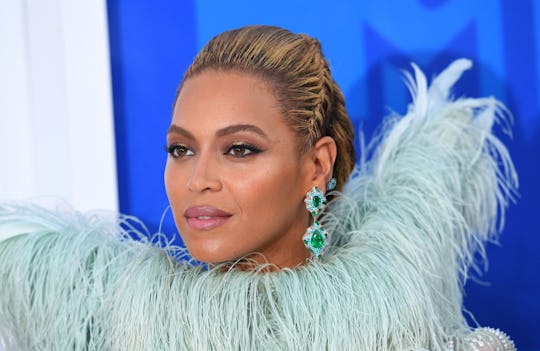 ANGELA WEISS/AFP/Getty Images
How To Rewatch Beyonce's VMAs Performance, Because One Taste of 'Lemonade' Isn't Enough
Sunday night's MTV Video Music Awards were packed full of music's most exciting artists from Rihanna to Britney Spears and Nicki Minaj. But it was one star who put on a performance tour de force you'll be watching for years to come: Queen Beyoncé. Her Lemonade medley brought down Madison Square Garden, and whether you caught it during the MTV Video Music Awards or not, you'll definitely want to see it again. How can you rewatch Beyoncé's VMAs performance? MTV has you covered with a video.
MTV had overwhelming talent riches last night. First there was Rihanna, who was supposed to be the brightest star of the awards show as the year's honoree for the Video Vanguard Award. And she delivered. Rihanna put on performances of all of her biggest hits, donned a bevy of beautiful costumes, and proved she absolutely deserved the award named after Michael Jackson.
Drake was another story.
In a night that was supposed to be about Rihanna and her career, bringing out Drake to overshadow her accomplishment and make the whole moment about whether he was going to propose was cheap and disrespectful. RiRi should have been allowed that moment to herself.
But that wasn't the show's only lackluster moment. In addition to Rihanna, Sunday night's MTV VMAs were also supposed to be the big return of Britney Spears since she ambled through "Gimme More" in 2007, the year of her very public meltdown. And she was back. Britney did a solid job of singing her new song "Make Me" and looked undeniably amaze in her bright yellow body suit and boots. But it was who performed before Britney that made her strut on the stage fall a little flat.
Britney had to follow Beyoncé and her jaw dropping medley of songs from "Lemonade." It was on an entirely different level than the rest of the night's performances. Here's full video of the performance:
Beyoncé sang and danced her gorgeous booty off for hit after hit off of Lemonade, ending with the infectious and powerful "Formation." She was girl power come to life. She didn't just re-create the visuals from Lemonade, she riffed on them, made them better, more immediate and in the moment. It was dizzying and let you know that every year Beyoncé just keeps getting better.
Beyoncé also showed up on the red carpet with who I suspect is the real muse for her mama's art, Blue Ivy. Just look at the dress and headband.
It's like a preview of the star of the MTV VMA's in 2036.
So spend some time rewatching Beyoncé's VMAs performance from Sunday night, because it's one for the history books. It's Beyoncé's world. The rest of us are just living in it.