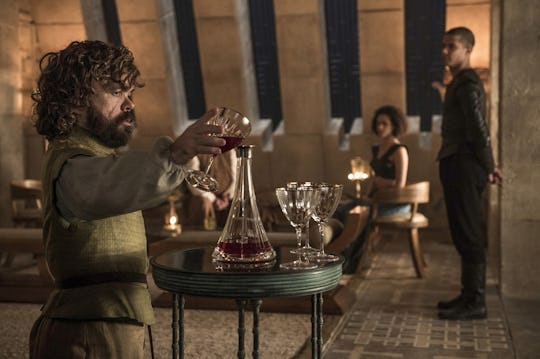 Helen Sloan/HBO
How To Rewatch 'Game of Thrones' Before The Season 6 Premiere, Because Why Not?
With the premiere of the sixth season of Game of Thrones fast upon us, it's time to catch up on any episode you might have missed, or even give the entire series a revisit so everything is fresh in your mind. There may not be enough time to get through all five seasons before the new season starts, but hey — you don't know until you try. With a show like Game of Thrones, there are so many characters (and so many interchangeable men with beards...) and so many plots going on at once that it can be hard to keep track of all the little details. A refresher never hurts — just make sure to skip over that one character death that always makes you cry. You know the one. If you're looking to binge, here's how to rewatch Game of Thrones before the season six premiere.
First let's get the technicalities out of the way. HBO has the entire series available for watching on demand, and they're also running a marathon of the fifth season on Sunday, April 24, leading up to the first episode of Season 6 that night. If you don't have HBO, there are a few other things you can do. There's always a subscription to HBO Now, which allows you to watch HBO shows without having a TV package. But if that doesn't appeal to you, you can purchase the seasons on DVD, Amazon, or iTunes.
Now that you know where to go if you want to rewatch Game of Thrones, it's time to tackle the how. There are right and wrong ways to binge emotionally taxing TV shows, of course — and you don't want to mess it up. This stuff is serious business.
1. Put On Some Comfortable Clothes
If you're going to be sitting for hours at a time, you need to be at maximum comfort levels — both physically and emotionally, considering the show we're dealing with here. Whether it's sweats and a t-shirt, classic pajamas, or a thematically appropriate medieval-style nightgown, it's time to get your comfort on.
2. Pour A Glass Of Wine
Cersei knows what's up in this area, even if I wouldn't take her advice on romance or...literally anything else. Game of Thrones is a stressful show, so help yourself to a glass of wine — or a bottle. If you don't imbibe, then go for a nice soothing chamomile or a mug of hot cocoa. Either way, Cersei would approve.
3. Get The Tissues Ready
Odds are you made the mistake of getting emotionally attached to at least one of the characters on the show — and it's likely they've come pretty close to dying, if they haven't actually succumbed. Make sure you have tissues at the ready for when those feels hit hard.
4. Prepare Snacks
You won't want to get up for sustenance mid-sword fight, so prepare in advance with an assortment of goodies. If you want to be hardcore about it, maybe whip up some lemoncakes (Sansa's favorite). But honestly, a bag of Doritos works just as well.
5. Find Something Or Someone To Cuddle With
I recommend a dog personally, but I hear some people prefer cats, stuffed animals, or even other humans. Whatever works. You're going to need the hugs at some point.
Season 6 promises to be a wild ride, but as long as you're prepared, you'll be ready!