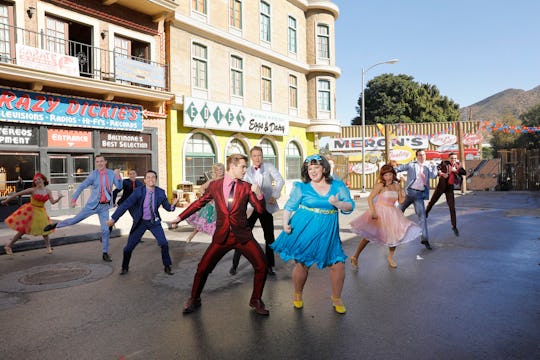 Trae Patton/NBC
How To Rewatch 'Hairspray Live!' So You Don't Miss That Baltimore Sound
So you're beyond excited for Hairspray Live!, which is about to air on NBC, but it turns out that you have your great-grandmother's sister's wedding anniversary party that day or something and tragically won't be able to watch it live. That means you need to know how to re-watch Hairspray Live! on NBC so you don't miss a minute of that Baltimore sound. Never fear, the internet is here for you, and it loves you and wants you to be happy. There are ways to watch even if you missed the big event airing in real time.
The first and most obvious way to make sure you don't miss out on the fun is to record it on your DVR, or even on one of those antique devices I'm told are called VHS tapes. I don't know if anyone still has one of those, but if you do, well I guess it's an option. They were invented, after all, for this very conundrum. If you'd like to go for the more modern route, though, Hairspray Live! will exist for some time on the internet even after it's big NBC debut on Dec. 7. Like most major networks, NBC makes recent episodes of its programming available for streaming the day after the episode airs.
This means that you can stream Hairspray Live! on NBC.com as early as Dec. 8 if you forgot to set your VHS or DVR or whatever. NBC.com and its streaming feature is also available in app form, so you can actually watch Hairspray Live! on your commute to work in the morning (as long as you're not driving of course). But NBC is not the only place to get your streaming on. According to TV Guide, Hairspray Live! will be available to stream on Hulu on Dec. 8 as well, which is yet another viable option. So never fear, you won't have to miss out on all the fun, and see the first major role for newcomer Maddie Baillio, who is sure to skyrocket to fame as soon as this airs.
Hairspray Live! is a televised live production of the famous musical, one of many that NBC and other networks like FOX have produced in recent years. It's just another way to bring musical theater to the masses, and I can't wait to watch it when it airs (and then probably again every day for the following week).