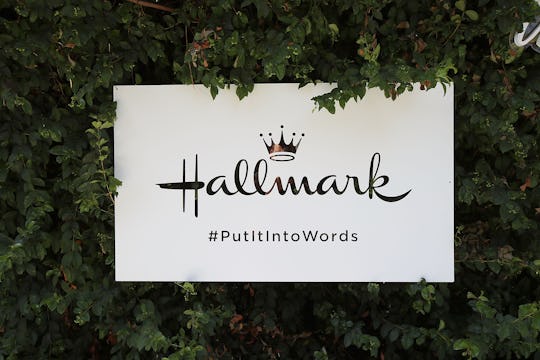 Ari Perilstein/Getty Images Entertainment/Getty Images
Here's How To Rewatch All Your Hallmark Movie Favs Anytime
It's the time of year when your calendar fills up fast. Between the baking and shopping, it only gets harder and harder to enjoy any free time until after the New Year. There's a ton of original holiday movies you want to see but can't manage to fit them into your schedule. I get it; the struggle is real. The good news is, once the movies have aired, you have multiple ways to see them. So don't fret — I'll let you in on how to rewatch Hallmark holiday movies without compromising your coffee meet-ups or early cyber shopping. It is Christmas, after all, but that doesn't mean you shouldn't be able to enjoy yourself, too.
The first, and most obvious thing to do is grab the Hallmark Countdown to Christmas lineup so you know what you're working with. From there, you can catch a preview of originals like Mingle All the Way, A Majestic Christmas, Welcome to Christmas, or any other film coming up. You'll then want to check your local TV programming to make sure you know exact premiere air dates (because you can't re-watch something that hasn't yet aired). The next step should be obvious — research the Hallmark movie schedule which tells when each movie airs, and re-airs. It'll even show you what's playing right now, with a full list of shows throughout each day. So really, there's no reason you can't pre-plan to DVR something like A Bride For Christmas, for example.
If the main TV situation isn't your thing, or you just can't find the time, Hallmark Channel Everywhere lets you stream movies for free, if you log in through your cable provider information. This service allows you to see Hallmark shows and movies live or rewatch as you please. If you happen to not have an official cable provider, they offer a few things you can watch for free without a log in. Snag the app in the App store (or Google Play). You'll never feel more in control of your life, TBH. And if the app isn't your cup of tea, you might want to give Hallmark Movies Now a try. This video subscription service is an all-movie model. However, while they air holiday content, it's not exactly "Countdown to Christmas" so beware. If this sounds like you, it'll cost you around $6 each month or $69 a year. Maybe consider giving the 7-day trial a go before committing.
If none of this sounds right for you, it might be worth looking into the different streaming services that offer Hallmark Channel (whether included or as an add-on) like FuboTV (which has a feature that lets you rewatch content up to 72 hours after it first airs), Sling TV, Philo, or DirecTV Now (that now has a DVR for up to 20 hours of recorded content). They all have different packages and price points but you'll still have to figure out when the movies originally aired, and if the ones you want to see are included.
The Countdown to Christmas has already begun (with 27 days left until the big day) so time is of the essence. It doesn't matter if you've already missed a few premieres, you can still get on board via all these other ways. Hallmark totally gets that you're busy, but they also totally get your right to watch a fun holiday flick. Bless you, Hallmark.
With all of these options, you really have no excuse not to watch and re-watch every Hallmark holiday movie this season. Or at least pick your favorite and stream it all day, every day until Christmas morning. Go ahead — you've earned it.
This first-time mom wants to have a home birth, but is she ready? Watch how a doula supports a military mom who's determined to have a home birth in Episode One of Romper's Doula Diaries, Season Two, below. Visit Bustle Digital Group's YouTube page for the next three episodes, launching every Monday starting November 26.