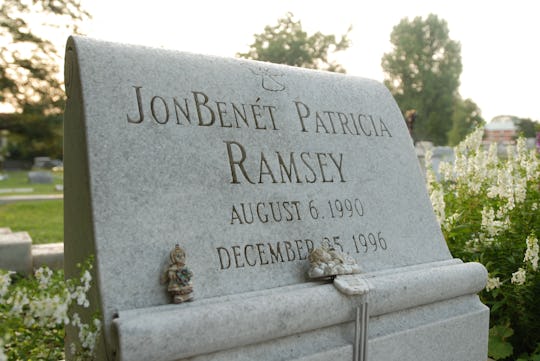 Barry Williams/Getty Images News/Getty Images
How To Rewatch Investigation Discovery's JonBenet Ramsey Special; It Will Be Impartial
September has truly been the month of JonBenét Ramsey, which is less surprising when you realize that this Christmas will be the twentieth anniversary of her death. Her murder generated so much controversy and was left with so little resolution that it's no wonder people are still fascinated by what happened to her. A&E already aired a documentary about the case, and CBS is set to air their own three-part special later this month. However, if you need something to tide you over in the interim, there will be another series on that bastion of true crime stories, the ID channel. If watching live wasn't for you (or you simply missed it), then here's how to rewatch Investigation Discovery's JonBenét special.
ID's JonBenét: An American Murder Mystery airs September 12, 13, and 14 in three episodes that promise to explore every facet of the case. The ID channel is usually good for repeats, so if you didn't catch it the first time around, there's a good chance the network will replay the special. ID's website has already put up several short clips from the upcoming series, so it's also possible that the entire series will be made available for viewing on the site once it airs. It's uncertain whether you'll be able to watch the series on any other streaming platforms yet, however.
With so many programs about the case airing so close together, they're going to have to work hard to distinguish themselves from each other. Each new special seems to promise more exclusive evidence, more heretofore unseen content. A&E's The Killing of JonBenét: The Truth Uncovered focused more on the intruder theory when it came to suspects, but promotional materials for CBS's special implies that they'll be exploring the theory that the family was somehow responsible.
According to ID channel president Henry Schleiff, JonBenét: An American Murder Mystery won't take sides when it comes to theories about the possible killer and their motivations. "The fact is, we may never definitively know the answer to that question," Schleiff said. "But ID will re-explore every angle, every shred of evidence, and every 'whodunit' theory to allow our viewers to draw their own conclusions on the case."
Though the series claims it will go through the evidence and theories exhaustively, it's leaving any final determinations to the audience. Executive producer Pamela Deutsch said, "We present a comprehensive look at every credible suspect that emerged, and we're putting it out there for viewers to make their own conclusions."
Attempting to remain objective could indeed set JonBenét: An American Murder Mystery apart from other documentaries that look for more definitive resolutions. It won't be solving the case any time soon, but that's probably impossible at this point anyway.