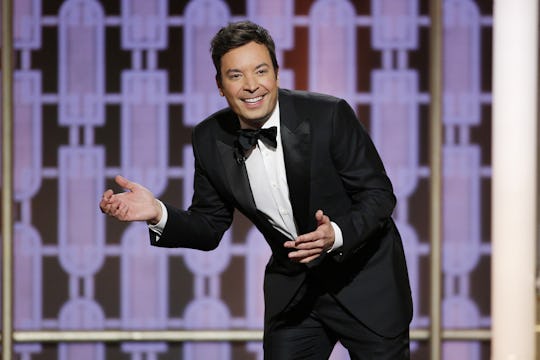 Handout/Getty Images Entertainment/Getty Images
How To Rewatch Jimmy Fallon's Globe Monologue
Whether you're a hardcore lover of award shows or someone who prefers to avoid it entirely, odds are you know that one of the most highly anticipated parts of any ceremony is the opening monologue given by the host. Not only does it help kick off the festivities, but it sets the tone in many ways for how the night will pan out. That's why I'm sure many of you are now wondering how to rewatch Jimmy Fallon's 2017 Golden Globes monologue so that you relive what's sure to be an unforgettable opening. Luckily, there are a couple of different ways to do so.
For starters, since NBC is playing host (get it?) to the Golden Globe Awards, the network will undoubtedly post the entire ceremony on its official website the following morning. And since the opening monologue happens right at the very beginning, you wouldn't have to wait long to see Fallon shine and deliver his well crafted jokes again. However, if you're looking for a different option, then odds are that the entire monologue will also be posted on YouTube relatively quickly after it gets performed. Granted, these videos are known to be taken down as quickly as they go up, but usually it doesn't take long for another one to crop up in its place. So it should be relatively easily for you to find if you're only interested in the opener and nothing else.
But, of course, this isn't the first time Fallon will be playing host for a big awards show like this. As I'm sure many of you recall, the late night talk show host previously hosted the Primetime Emmy Awards back in 2010, which included a very memorable (not to mention downright hilarious) musical opening number. And if I know Fallon — like I try to pretend I do — he'll have another great musical-type number ready for us this Sunday night as well. So it'll be no surprise that so many will want to watch the opener again and again.
However, that doesn't mean that the host won't have a few other surprises in store as well. After all, a monologue does mean just that — a monologue. So while a musical number is definitely possible (we'll know soon enough), he'll also be saying a few words as well and potentially cover important topics that are currently plaguing our society. (In other words, you can probably expect a few Trump-related jokes throughout that time as well.)
Suffice to say, it's going to be a night you won't want to forget. And with the help of NBC and YouTube, you won't have to.