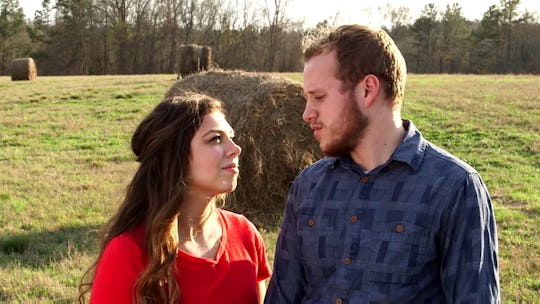 TLC/YouTube
Rewatch Lauren & Josiah's Wedding Ahead Of The 'Counting On' Season 9 Premiere
Josiah and Lauren Duggar tied the knot back in June 2018, though their wedding didn't air on TLC's Counting On until several months after the fact. Their ceremony was featured in the Season 8 finale, but now that Season 9 premieres on Feb. 11, you might what to revisit it so you're all caught up for the new episodes. To do that, you'll need to know how to rewatch Josiah and Lauren's wedding on Counting On.
Counting On can't be found on Netflix or Hulu, unfortunately. Though the latter site does have the first three episodes of Season 1, that doesn't help those looking to watch "Josiah & Lauren's Prank-less Wedding?" You can enjoy a dose of early seasons nostalgia on Hulu, but the streaming service won't get you up to date for Season 9. Instead, you'll have to look elsewhere — but fear not, because there is a way to watch the wedding again.
Your best bet is the TLC website. The entire series is available to stream there and it doesn't even look like you need a cable provider to sign in and watch. You can revisit all of Season 8 if you're feeling so inclined, but you can just check out Josiah and Lauren's wedding, too. In addition to full episodes, the TLC website (and their app, TLC GO) has key clips from the ceremony if you're looking for a quick update on the night in question.
TLC has the most exhaustive archives of Counting On and it seems to be the only place where you can watch the series online. The network's official YouTube channel has countless clips from the series, but it doesn't have full episodes. However, seeing a snippet or two from Josiah and Lauren's courtship can give you a decent idea of how their relationship progressed up until the big day — even if you can't watch the ceremony itself on YouTube.
Per TLC Me, Josiah and Lauren were married in the John Brown University Cathedral of the Ozarks in Siloam Springs, Arkansas, the state where most of the large family lives. After the wedding, they went off to Austria (specifically Vienna and Salzburg) on their honeymoon. Their plans were to try on some the authentic Austrian outfits, "drive hot rod soapbox cars," and tour some scenery from The Sound of Music, a movie Lauren loves.
Upon returning, Lauren and Josiah dealt with some heartbreaking news. Just a few short weeks after finding out she was pregnant, Lauren suffered a miscarriage. They had been preparing to take a trip to attend their friends' wedding in October when Lauren began to experience intense cramping. She miscarried later that night. "I couldn't believe it and I was hoping it wasn't true," Lauren says in an exclusive clip from the new season made available on People.
It looks like Season 9 will pick up right where Season 8 left off. It will explore Josiah and Lauren's first year as a married couple, through their happiest moments and toughest times. Taking another look at how it all started is a good way to get ready for their journey this season.