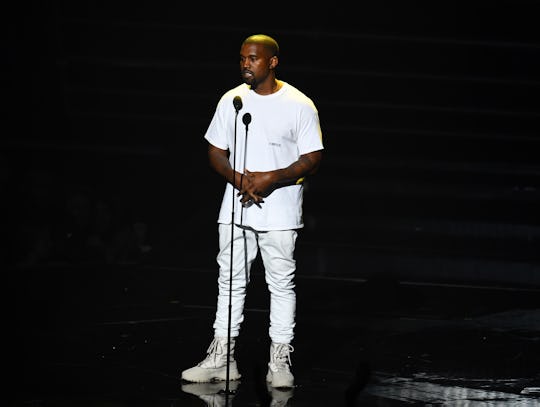 JEWEL SAMAD/AFP/Getty Images
How To Rewatch Kanye West's "Fade," Because You Know You Want To
After Kanye West gave us a four minute speech we'll never forget, he then released his brand new music video, "Fade." Just like most things West produces "Fade" is something you'll probably want to watch again and again. So here's how you can rewatch West's latest music video for "Fade." If you've got Tidal, you're all set. West released the music video as a Tidal exclusive, and all members should have received an email about the new music video during the VMAs. However, if you didn't, just log into Tidal — the video is already there waiting for you to watch it again and again.
For those who don't have Tidal, there's still a way to watch it besides just rewinding your DVR. Thanks to MTV you can view "Fade" on Twitter as much as you please. Presumably because the video aired on MTV, they're able to share it on their Twitter even though it's technically a Tidal exclusive. Whatever the reasoning is behind it for all of us who had to cancel our Tidal subscription after the trial period we are grateful for Twitter and MTV because "Fade" is definitely a video you can't just watch once.
Starring singer Teyana Taylor, who also appeared on an episode of MTV's hit TV show My Super Sweet 16, the video showcases Taylor dancing around a boxing gym that's reminiscent of Flashdance. The video then gets pretty steamy when Taylor is shown in a shower with a man, getting hot and heavy. It then ends with the two laying down with a baby on a field of lambs that kind of looks like a painting or something pulled from the Bible. Also, Taylor's face is morphed into an animal for some reason.
West may need another four minute speech to make clear the message he's trying to send with this new music video. "Fade" is definitely less controversial than his video for "Famous," but still borders the line for being not so safe for work. Whether or not you understand the video, you have to admit West always surprises us with his work. Make sure to check out "Fade" if you haven't already. It's worth at least one watch.