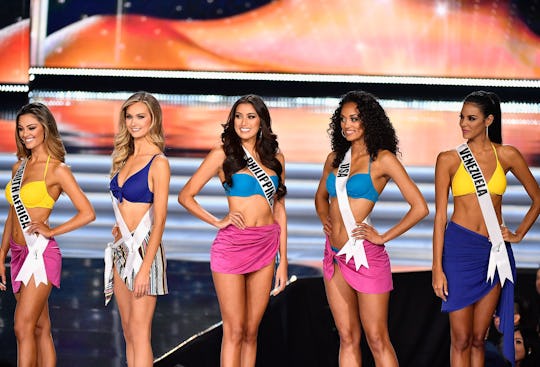 Frazer Harrison/Getty Images Entertainment/Getty Images
Here's How To Rewatch Miss USA 2018
It's almost time for the Miss USA 2018 pageant and a new winner will be crowned. Although this is a show that should definitely be watched live, if you can't watch it when it airs you'll want to know how to rewatch Miss USA 2018.
In years past, the pageant, which will once again air on FOX, has been posted on FOX.com and Hulu, the day after the pageant aired, so you can expect to find the show there come Tuesday morning. Additionally, if you have cable you can probably also find the pageant on demand also on Tuesday. Those seem to be the only official ways to rewatch Miss USA 2018, but they'll also definitely be clips of the show circulating the internet as soon as the show airs. So even if you can't rewatch the whole show, you'll definitely be able to find clips of the big moments, particularly the winner being crowned.
Fifty-one contestants (one for each state plus the District of Colombia) will be competing for the crown. Ahead of the two-hour event there was already preliminary swimwear and evening gown competitions, and during the show the finalists will be revealed. They will then compete in evening gown and swimwear competitions as well as do interviews, which will be scored by the selection committee. Those scores, along with votes from viewers at home, will determine this year's title winner.
What's really exciting about this year is the selection committee is comprised of a diverse group of women, which includes entrepreneurs, business leaders, and industry experts. The committee includes Jamie Kem Lima, CEO of It Cosmetics, Denis White, CEO of EAG Sports Management, Lilliana Vasquez, Emmy-award winning host and producer, Crystie Stewart, Miss USA 2008, and Natasha Curry, Miss Washington USA 1998.
Along with a diverse selection committee, the contestants are also a diverse group. Various different backgrounds and ethnicities are displayed amongst this year's contestants, and it's great to see the competition get more and more diverse each year. Some of those contestants are Miss Alaska, Brooke Johnson; Miss District of Columbia, Bryce Armstrong; Miss Florida, Genesis Davila; Miss Georgia, Marianny Egurrola; Miss Hawaii, Julianne Chu; Miss Indiana, Darriana Arch; and Miss Idaho, Téa Draganovic.
This year the show will be co-hosted by power couple Vanessa and Nick Lachey and they'll be joined by TV personality and fashion expert Carson Kressley and supermodel Lu Sierra, who will provide analysis. Vanessa actually won Miss Teen USA back in 1998, so for her this is a little bit like a return to her roots. She also revealed to Entertainment Weekly that she and Nick actually met when she was judging a Miss Teen USA in Palm Springs.
The pair are quite excited to host the pageant together this year, and this also marks the first time they're working together, something they've wanted to do for a while. "We love hosting, we wanted to do something together and this pageant is near and dear to my heart," Vanessa told EW. "I believe everything professionally and emotionally good in my life has single-handedly come from this event."
As for the show's performances, country music star Lee Brice is set to perform during the show, and Nick will also be performing along with his 98 Degrees bandmates Drew Lachey, Justin Jeffre, and Jeff Timmons. The show will then conclude with Miss USA 2017 Kara McCullough crowning her successor. The winner of the competition will then compete in the Miss Universe pageant, which is set to take place later this year.
You can catch the Miss USA 2018 competition on FOX on Monday night at 8 p.m. EST or rewatch it on Fox.com on Tuesday. No matter how you watch, this is a show you'll definitely want to see.