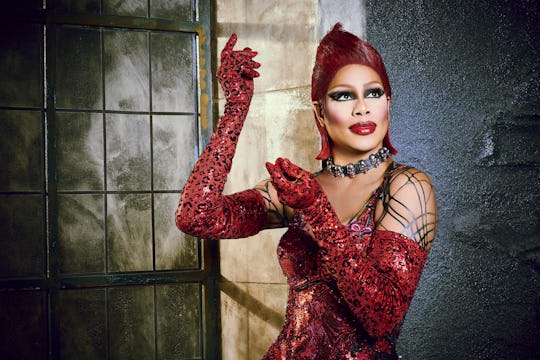 Steve Wilkie/FOX
How To Rewatch 'Rocky Horror' on FOX So You Can Do The Time Warp Again
FOX's The Rocky Horror Picture Show: Let's Do The Time Warp Again was a project a long time in the making. A remake of the classic 1975 film has been in the works for years, though it was never quite able to get off the ground until now. The new film premieres on Thursday, October 20 at 8:00 p.m. ET and unlike other televised musicals in recent history, it won't air live. But if you miss it, it's not a problem – it'll be an easy show to catch whether you didn't see it the first time or you're desperate to see it again. Rocky Horror has always been a movie that demands multiple viewings, and once you figure out how to rewatch FOX's Rocky Horror, you can decide if it deserves the same treatment.
FOX is making the remake available to stream the day after it makes its debut, so starting on October 21, Rocky Horror can be seen on FOX.com and on the FOX NOW app, as well as on demand through your television provider. It doesn't look like you need to enter your TV provider to watch things on FOX's website, either, making it even easier to catch up. The network hasn't announced yet whether the movie will be available on Netflix or Hulu, but considering they worked out a deal with Hulu to air an exclusive preview there's a good chance it will appear there eventually.
Billed as a special television event, the Rocky Horror remake runs for two hours and promises to be a tribute to the original film, not an imitation. The people behind the scenes didn't want to compete with such an iconic film, but instead create something that honored the original and the fans who loved it – especially because they were such big fans of it, too.
The remake stars Laverne Cox as Dr. Frank-N-Further, with Ryan McCartan and Victoria Justice appearing as Brad and Janet (respectively). Key Transylvanians will be played by Reeve Carney (Riff Raff), Christina Milian (Magenta), and Annaleigh Ashford (Columbia). Ben Vereen appears as Dr. Scott, with Tim Curry returning to the musical that made him famous in a supporting role as the Criminologist/Narrator. Adam Lambert cameos as Eddie.
Fans have been understandably worried about a remake of such a beloved movie, but there's no way to know if it lives up to the hype until you give it a try.