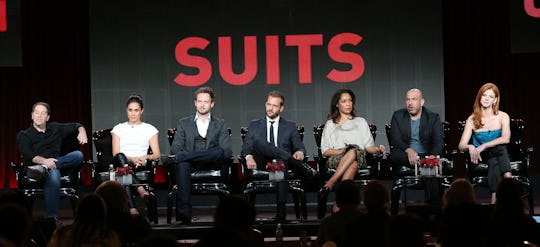 Frederick M. Brown/Getty Images Entertainment/Getty Images
How To Rewatch 'Suits' & See Meghan Markle Grace Your TV Screen Once Again
Meghan Markle, the Duchess of Sussex is married, which means she'll no longer appear on her TV show, Suits. But if the royal wedding just made you love Markle more, you might want to know how to rewatch Suits and see Meghan Markle grace your TV screen once again.
If you're located in the United States and have an Amazon Prime subscription, you don't have to put forth much effort to get your hands on the first several seasons of the show. The first six seasons of Suits are available on Amazon Prime, however the seventh season would cost extra to view. Luckily, the seventh season, the show's most recent and the last in which Meghan will appear, is currently available on USA Network's website.
If you don't have an Amazon Prime membership, you're not completely out of luck, but you will likely have to fork over some cash in order to catch up with Rachel Zane and your other favorite Suits characters. All seven seasons are available on both Google Play and iTunes, however you'll have to pay either per episode or per season in order to watch. If you want to see Markle appear in a very different sort of wedding dress and walk down the aisle to marry lawyer Mike Ross, season seven will have what you're looking for. Hey, maybe you can also rewatch the royal wedding while you're at it and compare Markle's two most recent trips down the aisle, both her TV wedding and her real life, fairytale ceremony.
Many of Markle's Suits costars attended the royal wedding, making the trip across the Atlantic to watch their friend marry Harry, including on-screen husband Patrick J. Adams. People reported that Adams shared a photo of he and his costars dining together the night before the wedding, ready to wish Meghan well on her wedding day. The Telegraph reported that, in addition to Adams, Abigail Spencer, Gina Torres, Sarah Rafferty, and Rick Hoffman were in attendance. This group, of course, also watched Markle's Suits character, Rachel Zane walk down the aisle to marry Adams's character, Mike Ross.
Though he didn't appear to be in attendance at the dinner, costar Gabriel Macht also attended the wedding ceremony at St George's Chapel at Windsor Castle.
The night before the wedding, in addition to posting on Instagram, Adams also tweeted about the wedding, giving Meghan advice and telling her how happy he is to be there for this moment.
The friendships she has with her costars don't seem to have faded or in any way lessened since she announced that she would be leaving the show at the conclusion of its seventh season.
For those in the United Kingdom looking to rewatch Suits (or to get into the show for the first time), if you have a Netflix account, you may be in luck. You can't stream the series in the United States, but you may be able to get ahold of the show through Netflix in the U.K. The Lay Stewards at St George's Chapel at Windsor Castle were reportedly instructed to watch the series through Netflix so that they'd be able to recognize the cast, Hugo Vickers, the Captain of the Lay Stewards, told the Daily Mail.
After marrying into the British royal family, Meghan will likely be even more popular and frequently in the limelight than she was while on Suits, so it's unlikely that you'll have to wait long to see her on TV again. But if you simply can't wait, watching past episodes of Suits is one surefire way to guarantee that she'll grace your TV screen once again even sooner than she might otherwise.