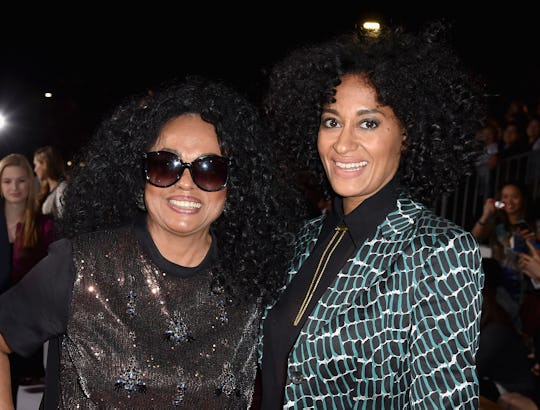 Kevin Winter/Getty Images Entertainment/Getty Images
Rewatching The 2017 American Music Awards Is Easier Than You May Think
Maybe what the world needs right now is a music awards show hosted by the eternally amazing Tracee Ellis Ross. Well, we're in luck, because the American Music Awards are on this weekend and Ross will be running the show. Just in case you miss the ceremony, it will be easy to rewatch the 2017 AMAs after it broadcasts live on Sunday night.
Since the show is going to air on ABC, the next day it will be available on all of the network's on-demand platforms, including ABC Go and the network's Roku and Apple TV apps, so you'll be able to re-watch the show over and over again as many times as you'd like. But you have to have a cable authentication to do it that way. Luckily, Hulu will likely have it up the next day as well, if that's how you prefer to consume your TV these days. The streaming service will also be showing the awards show live on Sunday night if you have the Live TV package (or you can sign up for a free trial and then upgrade to the $39.99/month plan later).
Of course, sometimes the best way to re-watch an awards show if you're not into every single minute of it is to scour Twitter and YouTube for the most talked about moments and performances, since you just know there are going to be some. The AMAs might not be the music industry's wildest night, but it will be good, clean fun. And couldn't we all use a little of that these days?
There's going to be great performances by artists such as P!nk and Kelly Clarkson, who will open the show, along with Lady Gaga, Selena Gomez, and Alessia Cara later in the evening. To honor The Bodyguard's 25th anniversary next week (holy moly, does that make you feel old?), Christina Aguilera will do a Whitney Houston tribute, so prepare to have some tissues close by.
It won't be the only tearjerker moment. Sunday's 45th AMA show will honor singer Diana Ross with the Lifetime Achievement Award and she will also perform that night. Ross was the first person to ever win an AMA at the very first show back in 1974, too. Since then, she's won seven more and hosted the show both in 1986 and 1987. So Sunday night is a big deal for the Ross family.
Tracee is excited to host the awards show and recently told The Hollywood Reporter, "It's a full circle moment for me. It's extra special. I couldn't have thought up and planned ... clearly the planets aligned and made this moment happen."
And there's going to be a lot of great clothes this year, so even if you don't tune in for the music, tune in for the tribute fashion to Diana Ross. Think big hair, big shoulders, and tons of sparkle.
Suffice to say, it's going to be a fun show to watch, if only for all that great mother-daughter love. Ross is also not planning on shying away from some of the controversial issues these days, namely sexual assault allegations that have been plaguing the entertainment industry. She told People:
I think I will follow my heart around what feels appropriate in the moment. There is a full show and a lot of things are being addressed in other ways. But as a human being, that is clearly an area I have a lot of feelings about. If there's a way that I feel it's appropriate to address any or all of those issues, I will. And if not, you guys can go to my Instagram feed, because we know I'm vocal there.
So the show will be one to watch, and maybe even set the tone for the rest of awards season coming up this winter. You're definitely going to want to rewatch it this week so you know what all the fuss is about.
Check out Romper's new video series, Romper's Doula Diaries:
Watch full episodes of Romper's Doula Diaries on Facebook Watch.