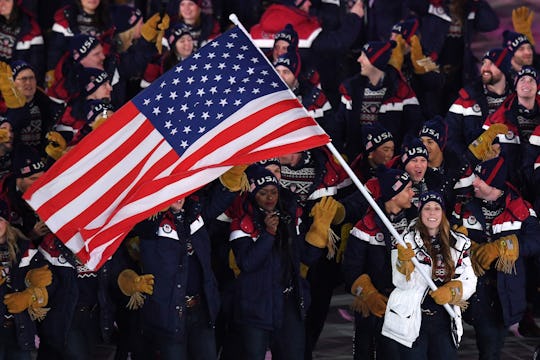 Harry How/Getty Images Sport/Getty Images
Here's How To Rewatch The 2018 Winter Olympics Closing Ceremony
Watching the Winter Olympics always takes a lot of commitment, but the time zone difference between the U.S. and PyeonChang made it especially rough this year. This weekend it's all coming to an end, with the closing ceremony airing live on Sunday, Feb. 25 at 6 a.m. ET on NBC. That is a really early time to get up in the morning, which is why you're definitely going to want to know how to rewatch the 2018 Winter Olympics closing ceremony, so you can feel free to sleep in a little later.
Here's the deal: early in the morning, NBC is just broadcasting it, but there won't be any commentary or anything at the point in time. However, NBC is broadcasting the ceremony again later that evening at 8 p.m. EST, with complete commentary, which can be useful so you know what you're looking at. So if you want to "rewatch it" you can just tune in that night. It will be live on all NBC owned channels, including cable channels like CNBC, USA Network, and NBCSN.
If you don't have cable, you can stream the ceremony on NBCOlympics.com and the NBC Sports app on your computer or with Apple TV, Chromecast, Roku, and Amazon Fire, according to Time. You will be able to find the ceremony on demand on all of those platform the next day, too, if you miss both broadcasts.
The closing ceremony will be held at the PyeongChang Olympic Stadium in front of 35,000 people. While the opening ceremony is all about each country making a huge entrance, the closing ceremony is traditionally for the host country, South Korea this year, to show off their culture, according to InStyle.
Ivanka Trump is going to be there to represent the U.S. presidential delegation, along with White House press secretary Sarah Huckabee Sanders. That might be worth watching, since The New York Times suggests that sending Ivanka is in some way a power move from the White House after North Korea's Kim Jong Un sent his sister Kim Yo-jong, to the opening ceremony earlier this month.
"We cannot have a better, or smarter, person representing our country," Donald Trump tweeted on Friday morning. Since her arrival to South Korea was covered on national television, she's kept busy. Once in town, Ivanka, who's a senior White House advisor, met with South Korea's President Moon Jae-in in Seoul and called for "maximum pressure" on North Korea to ease up on its nuclear program. ABC News reports that she isn't planning on meeting with the North Korean delegation, but hopes to cheer on the American athletes and "cement Washington's alliance with South Korea."
It's probably going to be just as meme-worthy to watch as the opening ceremony was, when Vice President Mike Pence did his very best to ignore the North Korean representatives in Moon's special VIP box. So it will be worth watching for that reason alone.
But the Olympics is supposed to be about sports over politics, obviously, so the athletes should take center stage. It's going to be quite the show. Oh Jang-hwan, Director of Ceremonies, told Olympic.org:
The theme for the Closing Ceremony is "Next Wave". It will have a festival atmosphere to recognize and celebrate the athletes' hard work and achievements at the Games. We have created a show that looks towards the future; it includes quite a lot of traditional Korean humor and fun elements to add to the party feel.
He added that the closing ceremony stadium was the first one to ever be built just for ceremonies in Olympic history, shaped perfectly in a pentagon so fans can interact with what's going on. The only drawback is that it's open-air, and South Korea is freezing at the moment. Other than that, the closing ceremony should go off without a hitch. But definitely don't wake up that early on a Sunday morning to watch it since there are so many other options.
Check out Romper's new video series, Romper's Doula Diaries:
Watch full episodes of Romper's Doula Diaries on Facebook Watch.