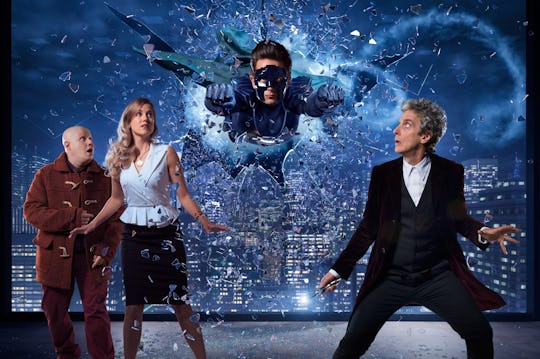 Ray Burmiston/Stuart Peacock/BBC America
Rewatching 'Doctor Who's Christmas Special Is Easy
One of the best parts of being in the Doctor Who fandom is the excitement of a new Christmas special every single year. Since the classic series rebooted in 2005 with Christopher Eccleston's tenth incarnation of the Doctor, the annual episode airing on Christmas Day has been something to look forward to. This year, in particular, fans of the show are clamoring for the latest installment to the Doctor Who Christmas canon, given that it's been a full year since any episodes with Peter Capaldi's newest Doctor have aired. Knowing how to rewatch the Doctor Who Christmas Special is definitely helpful, since many viewers might be too busy on actual Christmas Day to partake in watching the original airing live. Luckily, there are a few different options.
It's been a full year since the last Christmas Special, "The Husbands of River Song," which was also the most recent new episode of Doctor Who in general. In fact, the upcoming new special will be the only episode until the tenth series returns in April 2017 – so there's a lot riding on the new Dec. 25 episode to get us through our Doctor Who drought until the spring.
BBC is currently airing its marathon of every single episode of the revival series. That marathon will lead right into the first viewing of the 2016 special, "The Return of Doctor Mysterio," with the 90-minute episode airing at 9 p.m. ET on BBC. If you're not totally drained after a full day of Christmas-y things, there is an encore presentation of the episode you can catch on BBC just after midnight, starting at 12:15 a.m. ET.
However, if you'd prefer to watch the special after its original airing on your own time, there are a few safe bets. Every single episode from the series through the end of Season 9 (including every Christmas Special) is currently available on Amazon (included with Amazon Prime memberships for free streaming). Odds are the newest special will pop up there sometime after it first airs. However, it probably won't be included for free streaming for a while. If you can't/won't wait that long, you can buy a season pass for the Christmas Special (in HD) for $4.99.
Alternatively, you can put those workplace Secret Santa iTunes gift cards you might have received to good use by using one of them towards the Christmas Special there. An iTunes' Doctor Who Christmas Special season pass is currently available for $3.99 in SD and $4.99 in HD.
If you're feeling super festive, though, you can even catch an airing of this year's Christmas Special on the big screen. Fathom Events is hosting a special two-night event, screening the new Christmas Special in its entirety in theaters nationwide on Dec. 27 and Dec. 29, with two additional exclusive bonus features tacked onto the end of the episode.
So, what are you waiting for? Go get your Doctor Who Christmas on, Whovians!