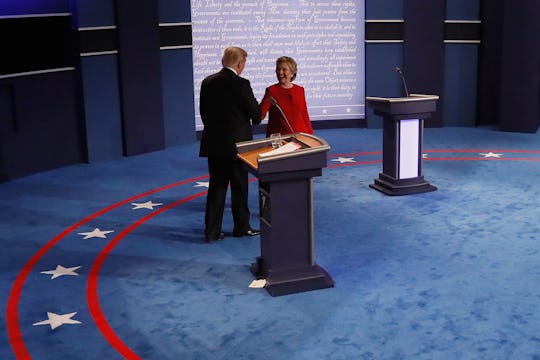 Pool/Getty Images News/Getty Images
How To Rewatch The First Presidential Debate, Because It Was A Must-See 90 Minutes
Monday night's highly anticipated first debate between presidential candidates former Secretary of State Hillary Clinton and Donald Trump promised to bring the fireworks, and no one can deny it delivered. From Howard Stern and Miss Piggy getting name checked to word salad coming out of Trump's... wherever, the debate lived up to its must-see hype. Here's how to rewatch the first presidential debate, because it's one the world will be talking about for many years to come.
It was a tale of two vastly different candidates. One studied and measured, another totally fueled by emotion and outrage. One rehearsed on maintaining a cool demeanor through a bombardment of attacks, another thin skinned, fidgety, and obviously irritated. Watching these two candidates go after each other told you almost everything you needed to know about how they would function as president. The words were secondary.
Trump attacked Clinton's temperament and stamina. Clinton went after Trump's business track record, birtherism, and tax records. Clinton even gave a little shimmy at one point, as if to shake off the bad juju rippling over her from Trump's direction.
This debate wasn't something you could fully appreciate on the radio or chopped up into viral videos. Watching the debate unfold is both fascinating and informative on various levels. But as the Washington Post's Chris Cillizza pointed out in his post-debate analysis, the most revealing moments of the debate came courtesy of the split-screen shot of both candidates during the full broadcast. Cillizza wrote:
I'm not sure who made the call at networks to keep Trump and Clinton on screen at all times during the debates, but whoever did it: good job! Debates are aimed at revealing not only policy proposals but also personality and temperament. Split screens help illuminate who these people are when under duress and attack, when they are nervous and when they feel backed into a corner. Trump didn't fare as well as Clinton with the split screen. He sighed, made faces and looked, well, not very presidential.
If you haven't had a chance to watch the full debate, it's worth your time. You can watch it here courtesy of NBC's YouTube page.
According to TV Line, early reports on TV ratings show about 81 million viewers tuned into NBC to watch the live debate. That's up more than 20 percent compared to the first debate between President Barack Obama and Mitt Romney. But TV Line also pointed out that, while NBC did score "bigly" in the ratings for a presidential debate, it didn't bring in the Super Bowl numbers some expected. This year's Super Bowl, according to TV Line drew more than 111 million viewers.