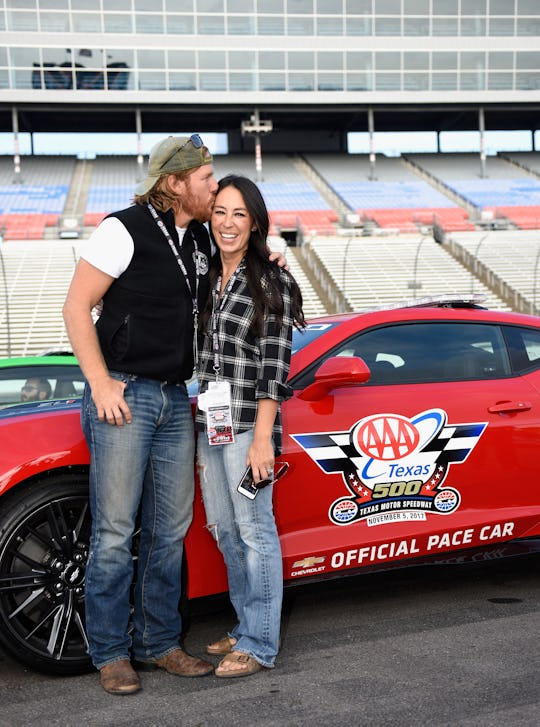 Jared C. Tilton/Getty Images Sport/Getty Images
Here's How To Rewatch The 'Fixer Upper' Series Finale
It's the end of an era. Or, at least, a TV series. After five seasons and almost 80 episodes, the popular HGTV series, Fixer Upper, is coming to an end. Although you'll most definitely be watching the series finale live, in case you miss it or want to see it again (and again), here's how to rewatch the Fixer Upper series finale.
Unfortunately, unless you have a DVR or on demand, you'll probably have to pay to rewatch the series finale if you want to watch it immediately. Although Hulu has the first four seasons of the series, it hasn't uploaded the fifth yet and it's unclear when that will happen. The series also isn't on Netflix and it doesn't look like HGTV has uploaded any of the recent episodes online. Thus, your best bet to rewatch would be to purchase the episode from iTunes or Amazon Video for $2.99, which really isn't that bad for a great series finale. Alternatively, HGTV will also be showing an encore presentation of the finale at midnight EST on Wednesday, April 4 and again at 7 p.m. EST on Sunday, April 15.
As always, the finale will see Chip and Joanna Gaines creating a great space for someone. In this case the home is for musician Mike Herrera and his wife, Holli, who are moving from Washington state to Waco, Texas so they can be closer to Holli's family. The couple have two children so they're looking for a big house with plenty of space for the kids and Mike's music studio. No doubt Chip and Jo will be able to find the perfect place and fix it up.
Since it's the series finale, they'll surely also be some time in the episode to reflect on the show's past seasons and some of the many fun moments Chip and Joanna have had over the years with the show. Although it's always incredible to see how Chip and Joanna fix up a house, many fans have continued watching just because this couple is so incredibly cute and work so well together.
Over the years, fans have watched this family grow, and now Joanna is pregnant with the couple's fifth child. Although the kids aren't seen often that doesn't stop fans from being totally infatuated with this family as a whole. Thankfully, just because Fixer Upper is coming to an end that doesn't mean this will be the last you see of Chip and Joanna.
Beginning a week after the series finale, the Fixer Upper spin-off series, Fixer Upper: Behind the Design will begin. The new series will be made of 15-30 minute episodes that will air after a rererun of the corresponding episode, and will dig deeper into Joanna's full process.
"I can't wait to show our fans how every piece of the design comes together before the final reveal," Joanna said in a press release, according to People magazine. "I want to nail every detail so that, when we walk away, Chip and I know we've given a family the one-of-a-kind home of their dreams."
Besides the new series, Joanna and Chip also have other projects they're working on. The couple opened their restaurant, Magnolia Table, in March, and Joanna has a cookbook by the same name coming out later this month. The couple's decor line at Target was also just expanded back in January and the two still maintain their blog at Magnolia.com. Thus, to say they're keeping busy in an underestimate. Still, there's no doubt these two will continue to remain in the public eye and it wouldn't be surprising if they announced they were doing another show soon.
Check out Romper's new video series, Romper's Doula Diaries:
Watch full episodes of Romper's Doula Diaries on Facebook Watch.