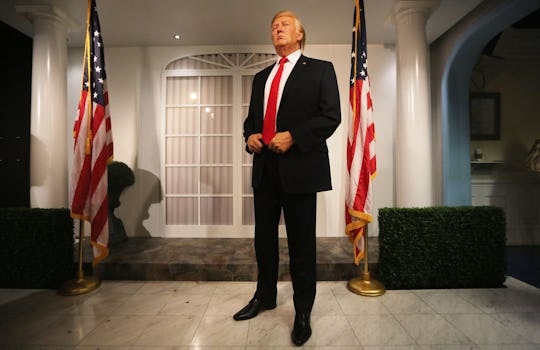 Mario Tama/Getty Images News/Getty Images
Have To Miss It? You Can Rewatch The Inauguration
On Friday morning, Donald Trump will be officially sworn in as the 45th president of the United States. Much like a royal wedding or a season finale of Game of Thrones, this is not something you're going to want to miss. But if you do, because you have, well, a life, there will be ways to rewatch the inauguration. Normally, missing an inauguration ceremony is no big deal, but this Donald Trump we're talking about. He might not have been the greatest steak salesman, but he definitely knows how to put on a show.
The whole event kicks off in the morning, live from the Capitol building at 9:30 a.m. ET. It begins with some of the musical performances that you've probably been hearing so much about. On Friday, it will be America's Got Talent singer Jackie Evancho and the Mormon Tabernacle Choir. (Toby Keith, 3 Doors Down, and The Piano Guys will be performing at Thursday night's "Make America Great Again" concert.)
At 11:30 a.m. ET, there will be opening remarks by a bunch of speakers and then at noon, Trump will be sworn in by Supreme Court Chief Justice John Roberts with Abraham Lincoln's Bible, along with one used by Martin Luther King Jr. (Trivia alert: Mike Pence will be sworn in with President Reagan's Bible.)
Afterwards, Trump will give his inaugural speech. It's guaranteed to be a huge event — remember how Trump arrived at the RNC with a smoke machine? We can only pray his arrival will be equally as insane.
So how can you re-watch later, if you miss out the first time?
For starters, CNN, MSNBC, Fox News, and all the major networks will be airing the whole thing, with some channels starting at 5 a.m. ET and covering the event the whole day, in real time — even the parade afterwards, which is sort of insane. Twitter and PBS teamed up to stream it on social media, and the White House and various media outlets' YouTube channels will also have a stream.
CNN, NBC, ABC, Fox News, and CBS didn't immediately return Romper's request for confirmation that they will offer the inaugural ceremony — the performances, the remarks, Trump's swearing in, and his first speech as president — as an on-demand offering or on their websites and Apple TV or Roku apps, but it's a safe bet that some sort of repeat airing will go up at some point later that day.
And let's be real — Twitter will be full of GIFs and videos so if the networks fail you, following the official Inauguration Day hashtag can at least fill you in on the best (and LOL-worthy) moments of the day. In addition, the livestream videos will almost certainly be up later on the official White House YouTube page, as all of President Obama's have been. Which should be reassuring for most voters — at least we'll all have the incoming president and vice president on record promising to preserve, protect, and defend the Constitution (not the country, mind you) to the best of their abilities.
That might come in handy one day.