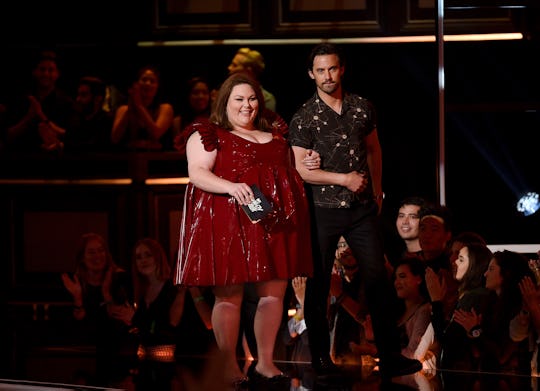 Kevork Djansezian/Getty Images Entertainment/Getty Images
Here's How To Rewatch The MTV Movie & TV Awards In Case You Miss Them
One of the best award shows is finally here! It's the MTV Movie & TV Awards. The show that has consistently been filled with outrageous moments that has people immediately signing on to Twitter, this year's show may be the best yet. Hosted by Tiffany Hadish, they'll definitely be a lot of laughs and the performances for the night will surely be spectacular. This is a show you won't want to miss, but in case you do, here's how to rewatch the MTV Movie & TV Awards.
Right after the awards show ends MTV will air two encore presentations at 11 p.m. and 1 a.m. EST. There'll also be more encore presentations on MTV. You can see the MTV Movie & TV Awards on Tuesday, Jun 19 at 11:01 p.m. EST, Friday, June 22 at 12:45 p.m. EST, and on Saturday at 6 p.m. and 10 p.m. EST. Thus, there are plenty of opportunities to catch the show again!
However, if you don't have a cable provider you may be out of luck. It doesn't look like the award show will be uploaded to any streaming site. Still, you'll definitely be able to find clips of the most memorable moments on MTV.com as well as YouTube and (probably) social media. No doubt people will be tweeting and sharing their favorite moments online. But if you do want to see the whole show, as you should, your best bet is to keep an eye on MTV.
The MTV Movie & TV Awards is sure to be a fun. Along with Haddish hosting, there'll also be performances by Mustard, Nick Jonas, and Chloe x Halle. As for celebs you can expect in attendance, Michael B. Jordan, Seth Rogen, Mila Kunis, Kristen Bell, Zendaya, Gina Rodriguez, and Common will be presenting.
Although there people will be tuning in to see who wins the awards they voted, there are also two awards that will be presented that didn't require any votes. The first is the Generation Award, which will be presented to Chris Pratt for his work in Parks & Rec, Guardians of the Galaxy, the Jurassic World films, and more. The second is the Trailblazer Award, which will be given to Emmy-award winner Lena Waithe for her work on-screen and her writing on Master of None.
As for the other awards, Black Panther and Stranger Things are set to win big. They received the most nominations with Black Panther scoring seven and Stranger Things getting six. Although one's a movie and the other is a TV show, the two will go head to head in a few categories, including Best On-Screen Team and Scene Stealer.
Black Panther will also be going up against two other Marvel movies that have come out in the past year, Avengers: Infinity War and Thor: Ragnarok, in a few categories. It'll be interesting to see which films come out victorious with the competition this stiff. On the TV side, Stranger Things has a lot of great competition, including 13 Reasons Why, Riverdale, Game of Thrones, and grown-ish.
One category many people are interested in is the Musical Moment, which like some other categories is a nice overlap between movies and TV. This year, fans were able to vote for their favorites on MTV's Instagram Story. The nominees are "Freedom" from black-ish; Timothée Chalamet's crying scene from Call Me by Your Name; "Bad Bitches" dance battle from Girls Trip; "I Wanna Dance With Somebody" from Love, Simon; "A Night We'll Never Forget" from Riverdale; "Every Breath You Take" from Stranger Things; "Rewrite the Stars" from The Greatest Showman; and "Landslide" from This Is Us.
To see who wins make sure to tune in for the MTV Movie & TV Awards on Monday night at 9 p.m. EST and make sure to catch a encore presentation if you miss it the first time around.