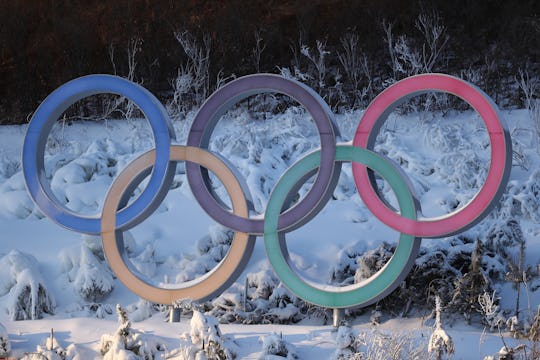 Lars Baron/Getty Images Sport/Getty Images
Here's How To Rewatch The Opening Ceremony Of The 2018 Winter Olympics
Everyone, the 2018 Winter Olympics is almost upon us, and with it comes one of my personal favorite parts of the games, the opening ceremony. Personally, I am so excited to see what kind of show South Korea puts on, and I know that just one viewing is not going to be enough. So here's how to rewatch the 2018 Winter Olympics opening ceremony so you can see every exciting moment over and over again. And if you happen to miss the action on Friday, it's OK because there are other ways to make it up.
The opening ceremony will first air at 9 p.m. local time in Pyeongchang, South Korea, and 6 a.m. ET in the United States on Friday, Feb. 9. If you're into that kind of thing, you can watch the ceremony live with the NBC Olympic website or with the NBC sports app. For those of us who aren't early risers, NBC will also broadcast the ceremony at 8 p.m. ET that Friday, which will be hosted by Katie Couric and Mike Tirico. But, of course, not everybody will be able to catch the festivities during the 6 a.m. live show or the 8 p.m. broadcast (apparently people often have social plans on Fridays, or so I've been told). So thankfully, there are ways to work around this.
The easiest way to rewatch the Olympic opening ceremony, or to catch it if you missed it the first time around, is simply to plan ahead. If your TV has DVR capabilities, simply plan to record the event on your TV so that you can go back and watch the gathering of the world's nations at your leisure. And bonus, this way you can skip all of the commercials. You may not even realize that your cable allows you to do this. True story, it took me an embarrassingly long time to realize that I could simply record Vanderpump Rules while I was watching The Bachelor so I could stay on top of my TV viewing. Don't judge me please.
Alternatively, according to NBC's Olympic schedule, they will be showing an encore broadcast of the event right after the first broadcast. So if you happen to be home at 12:30 a.m. Saturday morning with nothing to do for the next several hours, there's your chance. Personally, I don't think I'd make it past the opening fireworks (I assume there will be fireworks) but to each his or her own, I suppose. There is also the fact to consider that the next day major news networks and of course social media will likely be abuzz with at least the highlights from the show. I can't control or guarantee this, but it's just something I know.
However you do it, I recommend making a plan to watch the Olympics opening ceremony this year. For the first time in 12 years, North and South Korea will be united under one flag at the event, and I have a feeling that South Korea is going to pull out all the stops. And that is a nation that does entertainment really well. The theme is peace, and many outlets have been speculating that a K-pop group will perform (everyone is hoping for BTS). Plus, you'll get to see the American athletes decked out in their fancy heated winter coats designed by Ralph Lauren.
Because the weather is so cold in South Korea right now, it is unlikely that there will be any well-oiled shirtless icons this year, unfortunately, but perhaps we'll all be blessed with some other meme-able athlete to tide us over until the Summer Olympics.
Check out Romper's new video series, Romper's Doula Diaries:
Watch full episodes of Romper's Doula Diaries on Facebook Watch.