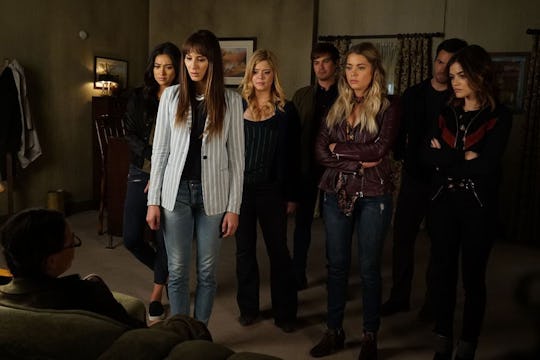 Eric McCandless/Freeform
Here's How To Rewatch The 'Pretty Little Liars' Series Finale
After seven years of lies, mystery, and murders, Pretty Little Liars is coming to an end. It's been a wild ride for the people of Rosewood, PA and the fans that have faithfully watched this show. Now the time has come for all to be revealed and it's an event you certainly don't want to miss. However, life outside of television does occasionally happen (or so I've heard), so you may need to know how to rewatch the Pretty Little Liars series finale. But don't worry, I've got the answers you seek.
If you have a cable provider you're in luck. You can easily watch the finale on Freeform.com the very same night the episode airs. Typically, PLL episodes make their way to the site by midnight EST, but sometimes they pop up as early as 11 p.m. Either way, you won't have to worry about being spoiled. Just stay off the internet for a few hours so you can watch the episode and you'll be good to go. Also, if you don't want to watch on your computer, you can also find the episode On Demand, though that may not be up as fast as it online. It should definitely be up by the next day, though. Hopefully.
If you don't have cable, don't fret. New episodes of PLL are uploaded onto Hulu the very next day, so there's no delay and you can find out all of Rosewood's secrets ASAP. Also, if you don't have a Hulu subscription, you can do their seven-day free trial for this special occasion. If you don't want to have unlimited access to a bunch of shows after you watch the finale, you can just cancel the subscription. But really, you're probably going to end up wanting to keep it because what's better than more TV? (That was a trick question — the answer is: nothing!)
If none of those options work for you, there's always good old Netflix. While the wait will be a bit longer, the final 10 episodes will be added to the streaming site on Thursday, July 20. That's less than a month after the finale, which is a pretty sweet deal. Plus, you can then rewatch the whole series if the finale leaves you saying, "Wait, what?" Hopefully, it doesn't come to that though.
Besides those options, you can also purchase the episode outright from iTunes or Amazon at a very cheap price the day after the finale airs. With all these options, there's no way you could miss out on the finale.
The Pretty Little Liars series finale airs on Freeform at 8 p.m. ET on Tuesday, June 27.