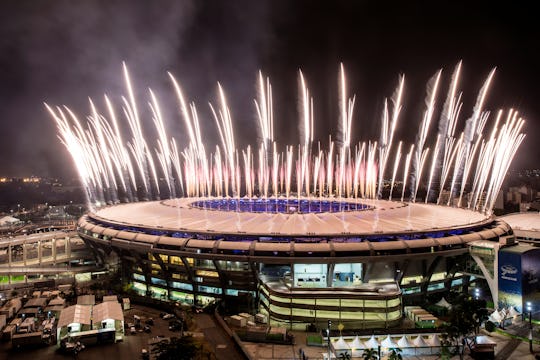 Buda Mendes/Getty Images Sport/Getty Images
How To Rewatch The Rio Olympics Opening Ceremony, Because You're Going To Want To
It's that time again: the Summer Olympics are beginning and its usual kickoff event — a spectacular opening ceremony — will be underway on Friday, August 5. If you've forgotten and made plans for your Friday evening that don't involve watching them – and if it's too late to cancel said plans – don't fret. There are ways you can rewatch the Rio Olympics opening ceremony, because it's 2016 and who watches television in real time anymore?
In the case of the Rio Olympics, the only people who will be watching in real time are those in Rio themselves. Although the ceremony begins at 7:00 p.m. ET NBC will start their coverage at 7:30 p.m. What's more, the ceremony itself will begin airing at 8:00 p.m. ET, 7:00 p.m. CT/MT, and 8:00 p.m. PT. If you don't have access to NBC on your television and want to keep up, you can watch from the NBC Sports app or go to NBCOlympics.com – though you will be prompted to login to your cable provider after 30 minutes.
There are a few options to catch the ceremony should you miss it the first time. NBC will be re-airing the ceremony beginning at 1:35 a.m. ET Saturday morning. The ceremony will also be available online at NBCOlympics.com, as will replays of sporting events.
From the looks of it, it seems that the Rio opening ceremonies will be one to watch – and rewatch. They will be held in Rio's famous Maracanã Stadium and directed by renowned filmmaker Fernando Meirelles, known for directing the film City of God. Mierelles said of the ceremonies, "Athens was about the classics, Beijing was grandiose and muscular, London was smart, and ours – ours will be cool."
Despite a low budget, those involved were determined to bring a ceremony that exhibits what Brazilians call gambiarra, which is thriftiness and ingenuity. Brazilian filmmaker Daniela Thomas likened it to MacGyverism. "We had a budget way below what you would expect for an event of this type, but we are pretty used to working this way," she said. Traditional Brazilian music akin to what's played in Rio's Carnival celebration will also be prominent.
Although this year's opening ceremony will not be extravagant like those of the past, it is poised to be unique and exciting. Thankfully, our methods of watching are different as well, so we can easily see them even if we miss NBC's initial airing.