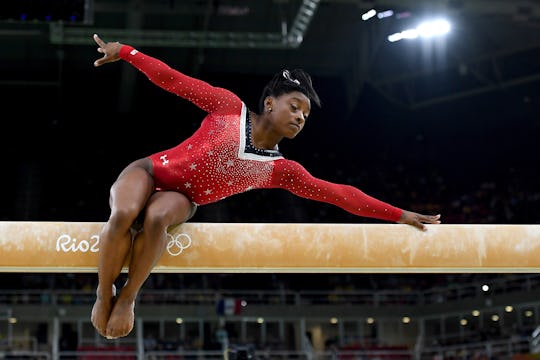 Laurence Griffiths/Getty Images Sport/Getty Images
How To Rewatch The Women's Gymnastics Individual Event Finals, Because It's Not Easy
It's not easy trying to keep up with the Olympics, since they're on 24/7 and so many events happen all at once. So if you missed anything big, like Simone Biles slaying it, don't be too bummed. You can always rewatch the women's gymnastics individual event finals and cheer belatedly for the Final Five (or whatever team you're rooting for, of course). What viewers can see on primetime is determined by time differences and interest in certain events, so take pity on all of the dressage fans out there as you cue up the gymnastics events and pretend you're Gabby Douglas.
It's not the same as watching it live, with all of the commentary and some context, of course. If you're just into watching certain athletes from the U.S. team or Sanne Wevers, from the Netherlands, who took the gold on the balance beam and beat Simone Biles, you can find videos of the events on NBC's website for featured videos. If you have cable, NBC is also running most of the Olympic finals on-demand. But if you want to watch a full, complete stream of the entire women's individual events finals without a TV or a cable authentication, you might have to click around a bit.
I mean, what's more American than a major network doling out Olympic events in hard to search for videos on their website? Think of it as a patriotic act, as you troll the internet looking for context to the videos of the finals.
It is actually kind of frustrating, because it seems like the Olympics are everywhere. But they sort of aren't. If viewers aren't on their couch at just the right time, they sort of have to know what they're looking for to re-watch it later, on their own time. NBC's app has a good selection of videos, so don't despair. But in my opinion, the best thing about the Olympics is sort of not knowing what the heck you want and then turning on the TV and randomly becoming enthralled with rowing or shot put. Who knew?
It's about watching all the competitive drama unfold in real time for a lot of viewers. I know NBC execs got into trouble for saying that they market the Olympics like a reality TV show for "women," but watching a single video of Aly Raisman do her thing in a short video is like turning on the TV to a scene of The Real Housewives of Orange County and they are fighting on a yacht, but you don't know why, but trying to rewind or go back is just too complicated, and it's all sort of anti-climatic at the end of the day.
In all honestly the live-stream NBC is running has even received a few complaints from viewers. Without a doubt, fixing live-streams takes time and money and it's probably not lucrative or practical to just upload all of their broadcasts, of all the competitions, to the app or VOD. Unfortunately, that also means that everyone is simply left with whatever some video editor thought were "the best" events that would be worth saving.
That's probably fine, for those of us who are gymnastics or track and field fans, but there are a lot of countries and teams and athletes that are amazing, even if they aren't medal winners. If that's the case, and you can't catch your favorites on a live-stream, you can always hop over to social media and follow the constant barrage of live-tweets from reporters on the scene in Rio — it may not be the same as seeing them perform, but it's better than nothing.
Whatever the case, let's just hope the next games will be a little easier to binge watch.