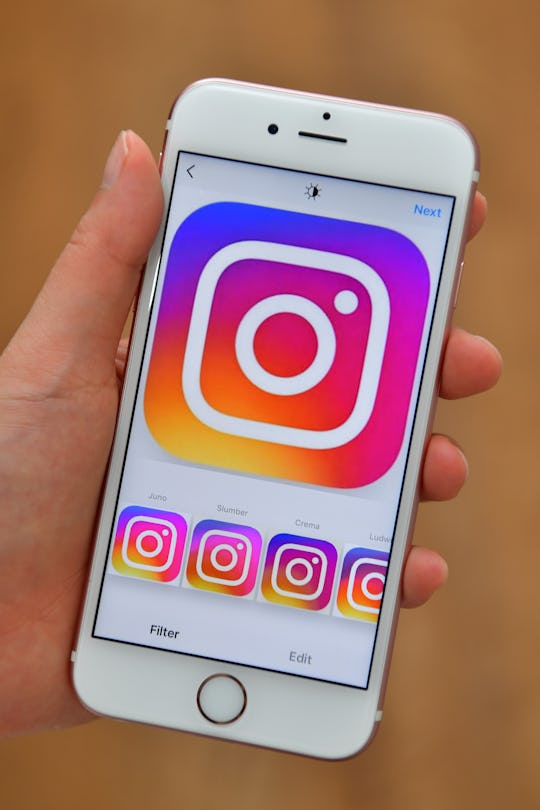 Carl Court/Getty Images News/Getty Images
How To Save An Entire Instagram Story To Your Phone Like A Pro
Instagram dropped its latest feature, Instagram Stories, earlier this month, and since it's debut, it has faced constant comparison to it's app contemporary, Snapchat. Instagram Stories is a pretty blatant rip off of it's social media counterpart (I mean, come on, they even used the same name), something that Instagram CEO Kevin Systrom has even admitted. One of the best features Snapchat previously had to offer was the ability to save the photos you take in your app directly to your phone's camera roll. Snapchat even introduced Memories in July, a new feature that allows you to save photos within the app itself. However, as Instagram users begin to use the new Stories feature, many are wondering if it's possible to save an entire Instagram Story on the photo app itself.
As it turns out, the name of the feature isn't the only thing Instagram swiped from Snapchat. It's definitely possible to save your story to your camera roll. If you don't want the pictures you posted to your story to disappear into the ether after 24 hours, you're in luck. It's actually super easy to save the photos. All you have to do is open your Story, tap on the three dots on the bottom right hand side of the photo or video, and then tap the Save Photo option. The photos will then appear in your camera roll.
If you're saving a photo from your Story because you love them so much that you want to post it to your Instagram profile, you don't even need to upload it from your camera roll. Instagram allows you to move pictures in your Story to your profile grid just like that. All you have to do is open your Story, hit the same three dots in the bottom right hand corner previously mentioned, and tap the "Share as Post" option. After you're finished throwing on filters and coming up with a clever caption, hit share. Once you've done that, the picture will be posted to your profile so all your friends can double tap that like button.
Despite similar features, like being able to save pictures you love from disappearing forever, people still aren't convinced that Instagram Stories are worthy. After all, the Snapchat MyStory feature has been around for a lot longer than new kid on the block, so it may take a little bit of time for users to warm up to the new Insta-feature. And perhaps knowing that Instagram also allows you to save your pictures will help nudge everyone to warm, happy feelings about the latest Instagram update.
It's definitely great news that Instagram allows its users to save their pictures from the Story feature. If you want to save somebody else's Story, though, you still have to do it the shady way and take screen shots.