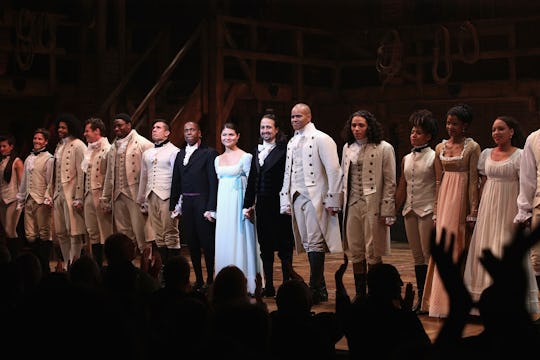 Neilson Barnard/Getty Images Entertainment/Getty Images
How To See 'Hamilton' At The Kennedy Center & Partake In The Incredible Spectacle
Residents of the Washington D.C. and tri-state area, rejoice. The Tony-nominated musical that's been setting the world abuzz over the past few months is finally coming to The Kennedy Center, the performing arts center announced on Tuesday. Hamilton, currently on Broadway, will be heading out on a national tour and making a stop in D.C. along the way. But the process to buy a ticket isn't exactly cut and dry. So here's how to see "Hamilton" at The Kennedy Center, if you're dying to sneak a peek.
Hamilton will stop at The Kennedy Center in D.C. as part of its 2017 to 2018 "Broadway series" season. But tickets to the show, a hot commodity that is sold-out on Broadway, won't necessarily be easy to grab this time around either. (Did you expect anything else?)
According to a press release by The Kennedy Center, it's recommended that Hamilton fans buy a subscription to the center's 2016 to 2017 season. Why? Because buying a subscription for the year prior, will increase your chance to see the musical the next season. Renewing subscribers get priority access to subscribe the following year. And a subscription to the 2017 to 2018 season includes tickets to The Kennedy Center's premiere of Hamilton. Subscriptions for the 2016 to 2017 season will go on sale May 18 at 10 a.m.
"It's unusual for us to announce a show this far in advance, but we're just so excited," Stephanie Stohler, a spokeswoman for The Kennedy Center, said in an interview with NBC. Prices for the series start at $120, NBC reported.
Hamilton, a hip-hop musical that follows the story of Alexander Hamilton, was written by Lin-Manuel Miranda (also creator of musical In The Heights) and scored 16 Tony award nominations. Miranda himself won the 2016 Pulitzer Prize for Drama last month for his work bringing the musical to life.
In an interview with PBS, Miranda explained why he chose to use hip-hop as a vehicle to tell Hamilton's story, saying,
For me, hip-­hop music was the most natural form to tell Alexander Hamilton's story because he was so prolific. He wrote so much. I ­identified with him as a writer who wrote his way out of poverty in the Caribbean. Wrote his way into Washington's good graces. Wrote his way into beats with other founding fathers­­ and defended the creation of our country­­ through the Federalist Papers.
So it's a natural form. It's just a natural musical form for the story we're telling. You're always trying to find the right form and the right means of telling a particular story. And­­ I think that my other side mission is always to erase the line between musical theater and other genres of music.
Tickets for the subscription to the 2016 to 2017 season at The Kennedy Center are available at the center's website: kennedy-center.org/subscribe. For more information on how to purchase tickets to see Hamilton, call The Kennedy Center at (202) 467-4600 or (800) 444-1324.