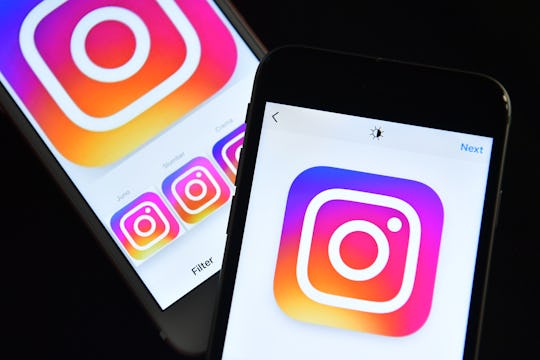 Carl Court/Getty Images News/Getty Images
How To See Only Friends' Instagram Stories, Because You May Not Want To Explore
Earlier this month Instagram announced that it would introduce Instagram Stories. The news sent avid social media users in a bit of a frenzy because, well, Snapchat is a thing. People were quick to point out the glaring similarities of Instagram Stories to Snapchat's Stories, but now it seems as though the shock factor has worn off. At least according to my personal Instagram feed – most people's initial resistance quickly developed into using Instagram Stories with Snapchat-esque content. But now Instagram has introduced yet another change to its platform. Instagram will now make Stories recommendations for people who you're not friends with on Instagram. But if you're not into the whole branching out thing, you may be wondering how to see only friends' Instagram Stories. Don't fret, it appears not much has changed on that front... at least yet.
Instagram expanded its Stories feature so that the photo and video-sharing app can now suggest Stories from other users through the Explore tab. In an interview with Techcrunch, Instagram's director of product management, Blake Barnes, described how Instagram users vary in the way they use the Explore tab.
"Some seek it out as the primary way they use Instagram…Some people view it as a dessert," he said.
But everyone may not like dessert (a crazy literal concept, I know).
If you're not interested in "exploring" random people's Stories because perhaps your own friends' videos and photos are enough to keep you occupied, it appears you can avoid the change altogether. Simply stay put in your home tab and personal Instagram feed, where you can comfortably scroll through the Instagram Stories of people you choose to follow. But you will see all of the stories of anyone you follow — including those accounts for people you aren't actually "friends" with.
The changes have started to roll out on Monday, The Hollywood Reporter reported. And according to Barnes, the new feature is all about helping people find more "compelling Stories":
The goal is to help people discover these compelling Stories and content they might not otherwise encounter. That's really the beauty of blending Stories and Explore. It's about giving people who want a larger audience an avenue to do so.
Considering the app has more than 100 million daily visitors, according to a Yahoo! News report, that's certainly a large audience to engage with more content.
Earlier this month when Instagram announced Stories, Kevin Systrom, Instagram's co-founder and CEO, explained why the company decided to cash in on Stories, according to the Verge:
There are a lot of people that don't use Snapchat yet around the world. We have over 500 million people using Instagram every month, 300 million dailies, and more than 80 percent [of them are] outside of the US. I think there's a giant market for moments like this, and I think Instagram can be one of the first to bring it to them.
Well if you were an Instagram Stories skeptic, chances are you'll approach the Stories in Explore feature with caution. Just remember, the power to swipe is in your hands.