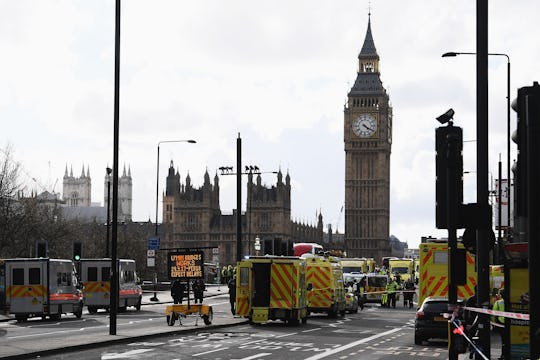 Carl Court/Getty Images News/Getty Images
How To Show Support For London After Attack
On Wednesday, a knife-wielding attacker mowed down more than a dozen people on the Westminster Bridge near British Parliament and stabbed a police officer before being shot by law enforcement. London police are treating the deadly incident as a terrorist attack until their investigation reveals otherwise. As the world waits for more details, here's how you can show support for London after the U.K. Parliament attack.
Update: According to the Associated Press, British police late Wednesday evening raised the death toll in the Parliament attack to five. At least 40 people were injured.
The attack first began when the alleged terrorist drove his car into a crowd of people on the bridge, killing two people and leaving 20 others injured, according to the Associated Press. He then left his vehicle after crashing into the fence below Big Ben and stormed the Parliament, where he stabbed a yellow-jacketed officer before being shot up to three times by law enforcement. The Telegraph has reported that the suspected terrorist and the police officer has died, bringing the fatality total to four.
People across the globe have taken to Twitter to offer prayers for the victims of the U.K. Parliament attack. Many social media users have shared a photo of the London Underground icon with the hashtag slogan #wearenotafraid. Other hashtags being used to show solidarity and support for the victims and the city of London include #PrayForLondon, #LondonStrong, and #WeAreLondon.
Facebook users including singer Christina Milian have also united to show love for London after the deadly Westminster Bridge assault. The London Underground logo along with photos of the city accompany compassionate messages of solidarity and hope.
Facebook has also activated its Safety Check feature in London following the alleged terrorist attack, according to Business Insider. People who are near the incident can use the feature to report whether or not they are safe; Facebook will then share their status publicly, allowing friends and families to see which of their loved ones have checked themselves in as safe.
Members of law enforcement and other social media users have also begun to pay tribute to the police officer stabbed and killed by the suspected terrorist. They are using the hashtag #thinblueline to represent the dead officer's heroism while doing his job. Some have also shared a black and white image of the Union Flag with a thin blue line drawn across the middle.
Wednesday's alleged terrorist attack on Westminster Bridge comes a year to the day after the deadly bombings in Brussels, according to the Daily Mail. It's unclear if the U.K. Parliament incident is connected to the Brussels attack.