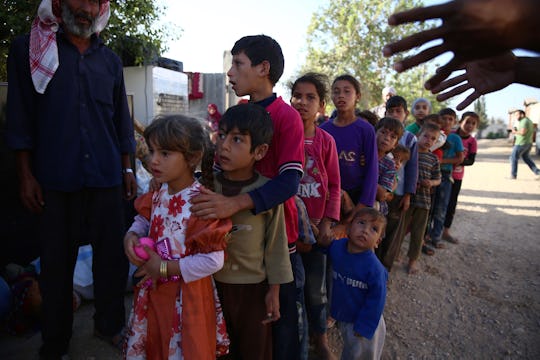 ABD DOUMANY/AFP/Getty Images
How To Show Support For The Child Victims Of The Syrian War
Emerging from the rubble of an airstrike, a 5-year-old boy has become an icon for child suffering at the hands of the Syrian conflict. Shell-shocked, Omran Daqneesh sits still in the back of an ambulance, covered in dust and blood while emergency responders search for his family members. He is still and he is scared, but he is alive. Similar images of destruction and terror abound, compelling the international community to wonder how they, too, might show their support for the child victims of the Syrian war.
As the Syrian civil war wages on, children are constantly caught in the crossfires of an ugly conflict. The United Nations has vocalized its frustrations with failed humanitarian efforts, commenting that attempts to provide aid remain futile as long as their access to affected areas is continuously denied. "What we are hearing and seeing is only fighting, offensives, counteroffensives, rockets, barrel bombs, mortars, hellfire cannons, napalm, chlorine, snipers, airstrikes, suicide bombers," insists U.N. envoy for Syria Staffan de Mistura. In order to effectively administer aid, he called for a "48-hour pause in Aleppo," seeking support from the U.S., Russia, as well as local influencers.
Whereas a halt on attacks altogether would be the most effective salve for Syria's open wounds, there are other noteworthy actions that can be made to lessen the suffering. Below are a few organizations that are working to help Syrian children, some asking for monetary donations and others simply asking for some of your time or attention (which you can easily give with a retweet or post on social media):
Doctors Without Borders
Medical facilities have been bombed heavily in Syria, often to the point of nonuse. Doctors without Borders works to provide medical care in nonconventional places in Syria such as "a private home, a chicken farm, even a cave." A donation would allow expanded medical care in a country that truly needs it.
UNICEF
Offering "education, physical protection, psychological support and clothing," UNICEF focuses on Syrian children both inside and outside of the country. The organization works on multiple levels to provide security to children amidst ultimate chaos.
Mercy Corps
With a focus on the future of young Syrian refugees, Mercy Corps works to "create safe spaces and develop constructive activities to help [children] heal from trauma, build friendships and develop critical life skills."
Save The Children
Meeting basic needs such as clean water, warm clothes, and shelter, Save the Children's efforts in Syria are broken down into different levels of donations. For $50 you can provide a family with a basket of food, for $250 you can provide shelter to keep a family safe, and amounts in between offer other much-needed aid.
International Rescue Committee
If you're unable to donate money to help the Syrian refugee crisis, you can volunteer your time. You can apply to mentor a refugee family through your local IRC office, helping parents to find job and provide a more secure life for their families.
The past five years of unrest in Syria have led to the death of hundreds of thousands of children—4,500 in Aleppo alone. Small gestures and donations can provide stability to lives that have been anything but stable.