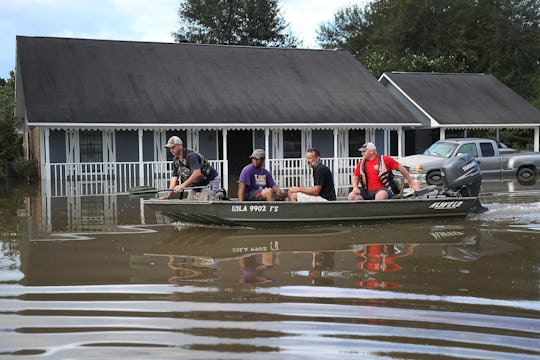 Joe Raedle/Getty Images News/Getty Images
How To Show Support For The Louisiana Flood Victims On Social Media
A state of emergency was declared in southern Louisiana over the weekend due to deadly flooding. There have been at least 11 deaths reported so far, according to officials, and that number is expected to rise. Louisiana Gov. John Bel Edwards reported some good news during a press conference yesterday: 30,000 people and 11,000 pets were safely rescued from the flood zones. The floods are still ongoing, though, and the state of Louisiana is in rescue and response mode. Social media has been a key tool in keeping the rest of to the country up to date on the situation. A search through the hashtag #LouisianaFlood shows dozens of images of flooded towns, as well as messages of support for the many displaced victims. The best way to show support for Louisiana flood victims on social media, though, is to share helpful information with your followers.
70,000 people have registered with the Federal Emergency Management Agency (FEMA) in search of aid. FEMA administrator Craig Fugate briefed President Obama on the situation occuring in Louisiana over the phone while vacationing with his family in Marth'a Vineyard. Obama directed FEMA to "utilize all resources available to assist in the response and recovery," according to a statement released by the White House.
While FEMA's services on the ground in Louisiana will be vital to the state's recovery, there are still many other ways for flood victims to get the assistance they need. Spreading the word about these options on social media is a great way to show solidarity with those in need.
The American Red Cross has set up a hot line, to which you can text the word LAFLOODS to make a $10 donation that goes directly to the flood victims. The more people who see this information, the more donations the Red Cross will receive. Ellen Degeneres shared this vital information with a simple post on Twitter Tuesday, gathering 1,625 retweets and ensuring the information was spread across a vast platform. The American Red Cross is also sharing important updates and possible ways to donate or volunteer on their own account, as well. Follow them to see how else you can help out.
The Salvation Army too is using its Twitter account to spread the word about assisting the citizens of Louisiana. Its established local network has been hard at work assisting with disaster recovery efforts despite the fact that their Baton Rouge facility was damaged in the floods. Salvation Army workers and volunteers are working to set up mobile canteens, assembling hygiene kits, and going out into the communities to assist where they are most needed. The Salvation Army's Gulf Coast Fund supports these efforts and the organization frequently tweets out the link to donate to this critical fund. To show support for the flood victims, share the information when it pops up on your timeline.
There are many different ways to support the disaster relief efforts in Louisiana. It's certainly important to assist in tangible ways, such as donating money or volunteering on the ground, but social media also offers a way to offer emotional support, as well. Many are taking to Twitter, Instagram, and Facebook accounts to send their love and prayers to the victims. These encouraging messages show that those suffering from displacement and loss in Louisiana are not alone.
The situation in Louisiana is still unfolding and the southern state will continue to need assistance over the coming weeks. Keep using social media to share important information about ongoing relief efforts in Baton Rouge, as well as to let the victims know they're in your thoughts.