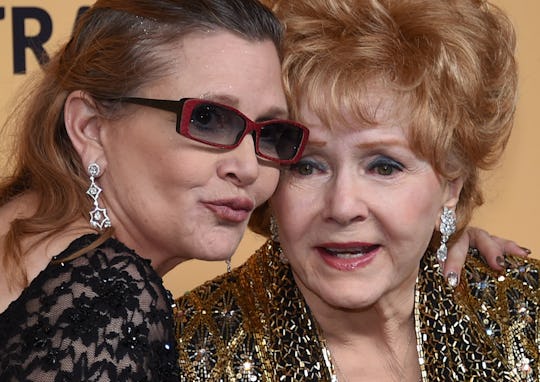 Ethan Miller/Getty Images Entertainment/Getty Images
How To Stream Carrie Fisher & Debbie Reynolds' Memorial
It's been nearly three months since the world lost two of the most iconic actresses in show business and on Saturday, March 25, fans can stream Carrie Fisher and Debbie Reynolds' joint memorial service for a chance to say one last goodbye and honor the lives of the beloved mother-daughter duo. The public ceremony will be held at Forest Lawn-Hollywood Hills in Los Angeles, the cemetery where they were both laid to rest back in January following their sudden deaths. While both fellow stars and fans will be in attendance, those who would like to pay their respects but can't be there physically can do so from the comfort of their homes as well.
According to the Associated Press, the memorial service will be live-streamed on www.debbiereynolds.com starting at 1 p.m. Pacific Time. People could get in line to join the ceremony on a first-come, first-served basis starting at 8 a.m. on Saturday and the venue can hold about 1,200 people. And it's expected to be full house as the organizers noted that those who aren't granted entry can still view the service on large TV screens that will be outside the cemetery hall.
While there isn't a listed running time for the ceremony, there are few things planned that could easily take up an hour or longer. For starters, according to the website, the program is slated to feature music by Star Wars composer John Williams and another highlight will be the unveiling of a tribute song by James Blunt, who was reportedly very close to Fisher and she was the godmother to his child. Blunt will not be performing, rather his song will be played over a photo montage to honor the famed women's lives. There will also be a dance tribute from the Debbie Reynolds dance school and "tons of costumes and memorabilia" will be on display as well.
Fisher and Reynolds suddenly died within a day of each other back in December. The iconic Star Wars princess passed away on Dec. 27 after spending four days in the hospital following a medical emergency she suffered while on flight from London, according to CNN.
Her mother, the Oscar-nominated actress best known for her breakout role in Singin' in the Rain, died the following day after being briefly hospitalized for reported breathing problems. "She said, 'I want to be with Carrie,'" Reynolds' son, Todd Fisher, told The Associated Press shortly after she passed. "And then she was gone." Fisher was 60, Reynolds was 84.
Both women had long careers in entertainment and gathered a huge fan base in the process. Their back-to-back deaths shocked the world and Saturday's memorial gives fans one last opportunity to pay their final respects and remember the incredible lives of Reynolds and Fisher.