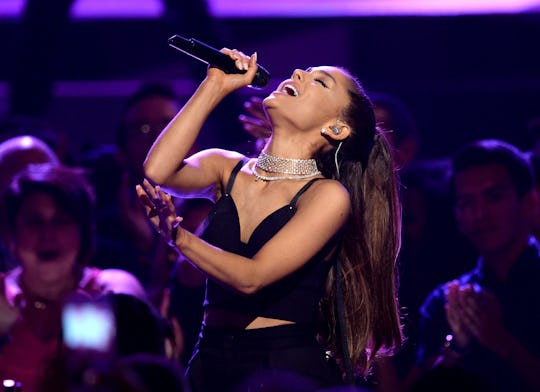 Kevin Winter/Getty Images Entertainment/Getty Images
How To Stream 'Dangerous Woman' Because Ariana Grande's New Album Is Truly Something
There is no denying that Ariana Grande can sing. The 22-year-old has one of the most impressive voices in the music industry and continues to prove that her voice is here to stay and become legendary. Grande released her third album (and possibly the best yet) on May 20 and is proving that this album is definitely going to become one of the best albums of 2016. So figuring out how to stream Dangerous Woman is imperative, because fans of all kinds of music need to check it out.
Grande is not like other musicians, such as Beyoncé and Drake, who both decided to exclusively stream their albums on one specific streaming service (in this case, TIDAL). Grande, on the other hand, has released her album on two of the most popular streaming services — which is good if you're out of free TIDAL trials and sick of hopping from service to service.
Dangerous Woman is available to stream on both Apple Music and Spotify. Spotify is the one of the only free streaming services which makes listening to Dangerous Woman more accessible than ever. Grande's album is also available to listen to, as previously mentioned, on Apple Music, which is currently offering a free three month trial. And if you're the kind of person that prefers to buy their music, the album is also available to purchase on iTunes for $12.99
So why should people stream Dangerous Woman? Well for one, Grande's amazing performance of songs off the new album rocked the Billboard Music Awards making the album definitely worth checking out. But the album has also been receiving some pretty decent reviews and is looking to take the Number One spot on the Billboard 200 Albums chart in the coming weeks —which would be a pretty great success.
The album's reviews are rightfully promising. Rolling Stone gives Dangerous Woman three out of five stars, applauding Grande for the variation of genres coming from each track on the 15-song album. Music reviewing website Pitchfork gave the album a 7.6 out of 10 — which is a compliment — and calls Grande a "powerhouse vocalist."
Twitter users also seem to not agree with music journalists, as #DangerousWoman has occasionally trended on the website since the album's release. The praise for Grande on Twitter has been endless, proving that Dangerous Woman is definitely an album that needs to be listened to at least once.
Luckily, listening to Dangerous Woman is now easier than ever thanks to the album being available to stream for free on Spotify and on Apple Music. So now everyone can hear Grande's powerful pipes in action. As it should be.