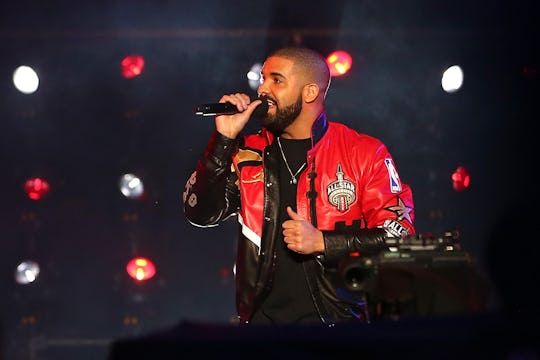 Elsa/Getty Images Sport/Getty Images
How To Stream Drake's 'Views' Because You Know You Want To
If you feel like you need a little something to mix in with your Beyoncé's Lemonade, Drake has come to your rescue. The artist finally dropped his new album so you need to know how to stream Drake's Views From The 6 right now so you know what everyone else is jamming to. Drake's new album was released on Friday through Apple's iTunes as an exclusive. That means that for the next week, Views will only be available to purchase through Apple's platform. Apparently, though, there's been a little change of heart and at 3 p.m. Pacific Time, the album will be available to stream on Pandora, according to a statement from the company.
According to Pandora, his two singles from the album "One Dance" and "Pop Style" have already garnered billions of streams, so it's a safe bet that the rest of the album will be just everything you needed to finish the weekend off strong. The streaming situation might have loosened up a little because, according to Pitchfork, Drake claimed at the launch party that the album had already sold over 600,000 copies on iTunes. That number may not totally reflect just how many people shelled out $9.99 for the album, though, as streams aren't calculated and could include older hits like "Hotline Bling," in addition to the new singles that were already available.
In any case, the album is already a hit. A lot of that is due just to there mere fact that fans have been waiting (and waiting and waiting) for new music from the performer. Much like the Bey Hive hyped Lemonade, Drake has been hyping Views all year. The album is apparently a "love letter" to his hometown of Toronto and according to early reviews, fans probably won't be disappointed. It's full of all the sappy love and hooks that Drake is known for. According to The Atlantic, it's all "sad sack cellphone" tunes. Which is pretty OK with me, in case anyone is wondering.
Some of the tunes though are reportedly a little creepy. In "U With Me" the singer talks about messaging all of his exes and feeling that "they get closer" when they're not together. That's almost stalker material, but since it's Drake, I think we're collectively letting this one slide. There are also a lot of sad, regretful songs about love lost, which is the stuff great pop songs are made of.
So either whip our your debit card and get on iTunes or stream the album as soon as you can. Beyoncé and Drake make great playlist-mates.