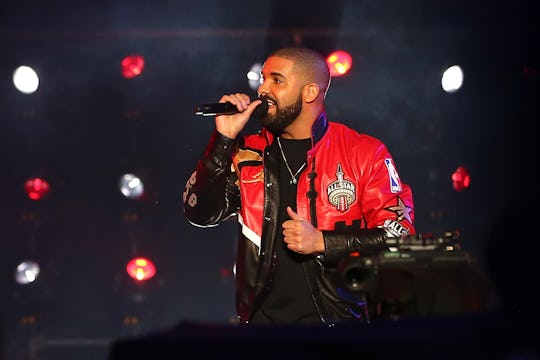 Elsa/Getty Images Sport/Getty Images
How To Stream Drake's 'Views From The Six', Because You'll Want To Hear It Again & Again
It has been a fantastic month for music. Not only did Beyonce release "Lemonade" and essentially knock out the entire music industry with the album, but Drake released a new album, too. On Friday, Drake released his newest album, "Views From The Six" and essentially made people fall in love with Drake all over again. So, here is how to stream Drake's "Views From The Six." I know, you don't need to thank me.
Unlike some artists who recently dropped new albums, you don't need a Tidal subscription to listen to the new Drake album — but don't think you're getting away without paying either.
Drake released his newest album through Apple and the album is currently exclusive to Apple's music entities. You can stream the album through Apple Music, or alternately you can purchase the full album through iTunes for $13.99 — where it currently sits at the top of the iTunes charts beating out both Prince and Beyonce. Go Drake.
If you're really not looking to spend money, Apple Music has a free three month trial for the subscription service available on their website. That way you can listen to "Views From The Six," decide whether or not you like the streaming service, and cancel your membership at any time.
Pandora also announced Friday that "Views From The Six" is now spinning on their website — but that doesn't mean that Drake fans can listen to the 20 song album consecutively. Stereogum reports that the album's track list has now been added to Pandora's rotation. Therefore, if you're listening to the Drake station you might be able to hear a song or two from the new album.
Stereogum also reports that "Views From The Six" is supposed to be an iTunes and Apple Music exclusive for the first week of its release, which Drake confirmed. Drake's last two albums, "What A Time To Be Alive" and "If You're Reading This It's Too Late" in addition to others are available to stream on Spotify, which might mean good news for Drake fans and Spotify lovers in the near future.
Currently, Spotify has this nice and pretty hopeful graphic on their service, explaining the absence of "Views From The Six" from its service — which makes me think the album might be released through Spotify sooner or later.
Drake first signed on with Apple Music in June 2015. The rapper has his own radio show through the streaming service and often releases his new music through Apple Music first.
While you might have to wait a week to see Drake's newest album pop up any where else, the wait will be worth it. "Views From The Six" is a great addition to the fantastic music that has been released in April and you'll want to listen to it over and over again.