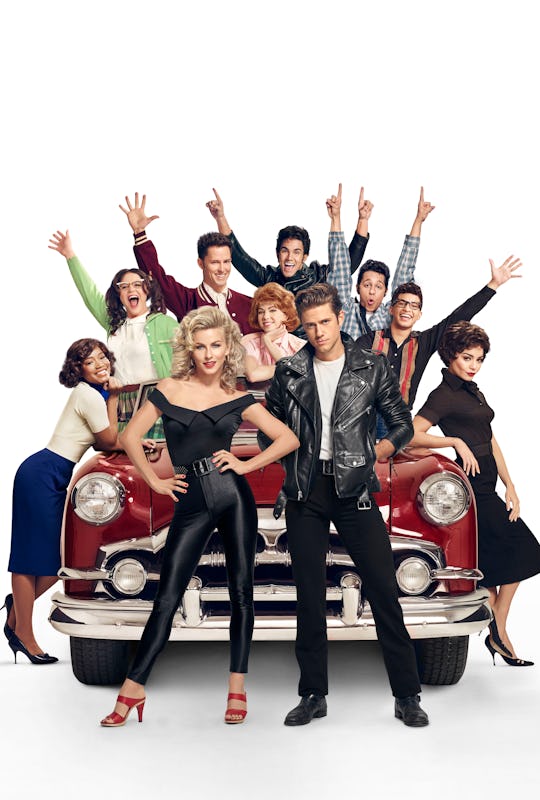 FOX Networks
How To Stream 'Grease: Live' Without Cable & Dance Along With The Rydell High Gang
In a matter of days, FOX will revive the Broadway classic Grease in a live production starring Julianne Hough, Aaron Tveit, Keke Palmer, and Vanessa Hudgens. No fan of Danny, Sandy, Rizzo — or any of the Pink Ladies and T-Birds, for that matter — should miss out. FOX will air the one-night performance live on Jan. 31 at 7 p.m. Eastern Standard Time — certainly the easiest way to catch the telecast. But even without cable, there are still plenty of ways to stream Grease: Live online. And that's a good thing, because no one wants to miss the chance to dance and sing along with the coolest guys and girls at Rydell High.
This marks the first time FOX has attempted a live telecast of a Broadway show, and the stakes are high indeed. So far, NBC has dominated the production of live musical plays, and that storied success will certainly give the FOX production some stiff competition.
NBC's telecasts of The Sound of Music, Peter Pan and The Wiz have yielded incredibly high ratings — The Wiz drew some 11.5 million viewers on its own and generated the most reaction on social media of any program in four years, according to Variety. Whether Grease: Live will be able to stand up against those types of numbers is yet to be seen... but with Kenickie, Rizzo Danny, and Sandy at the helm, they could very well come out on top.
In order to top NBC's numbers, FOX is doing things a bit differently. Not only are the actors performing live, but the show will take place in front of a live audience, according to a FOX video promo released in late December. Of course, that adds considerable pressure to the cast, Variety noted, since any minor slip could easily be magnified by a collective gasp from the studio audience. Still, having a live audience could also add the perfect element to performance, since all of the energy and excitement from audience members could help drive the performers on stage, and help the audience at home to laugh, sing — and hopefully dance — along with the cast.
If you're as ready as I am to get back to Rydell High, here's where you can find a live stream:
On FOX.com & FOX Now
Grease: Live is produced by FOX, so the network will stream the performance online. The live stream on FOX.com should start on Sunday, January 31 at 7:00 p.m. ET, 6:00 p.m. CT. Those with access to the FOX mobile app, FOX Now, will be able to stream on mobile devices, too.
Live on Hulu.com
Can't access Fox? That's okay! Hulu subscribers too can log into the streaming service to catch the live show. And that's probably a good idea, since the FOX.com live stream is likely to slow down under all the viewer traffic. If you don't already have a subscription, you can sign up for a free trial on the Hulu website.
Put on your dancing shoes and start breaking in those leather jackets — Grease: Live will be here any day now, and you can't sit with the cool cats if you aren't looking sharp. Got it, daddy-o?
Images: FOX Networks (4)