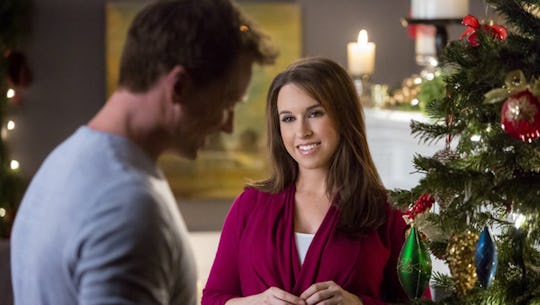 How To Stream Hallmark's Holiday Movies, Because 'Tis The Season, After All
There's no place like the Hallmark Channel for the holidays. Much like Freeform with its 25 Days of Christmas event, Hallmark is dedicated to getting its viewers in the holiday spirit. But unlike Freeform's post-Thanksgiving December-only holiday programming line-up, Hallmark's Countdown to Christmas comes much earlier — from late October until January 1, it's Christmas in Hallmark-land. This year, Countdown to Christmas even overlapped with Halloween, kicking off the last weekend in October. But if you're itching to watch Hallmark's beloved collection of holiday tales on your own schedule, knowing how to stream Hallmark's holiday movies is definitely essential.
Since the early 2000s, Hallmark has been debuting a consistently impressive (and ever-growing) collection of original movies. By the 2010s, a solid half of the original movie output each year was specifically Christmas-themed. Actresses like Mean Girl's Lacey Chabert (now a Hallmark original movie mainstay), Hart of Dixie's Jaime King, and Full House's Lori Loughlin star in just a few of the new original Hallmark movies that debuted (or will soon debut) in 2016.
Though they're playing near-constantly, it's still useful to have other ways to see favorite Hallmark classics, both new and old — particularly if you're a cable-cutter with streaming or online-only access. Here are a few simple ways to watch your favorite Hallmark holiday movies on-the-go.
Sling TV
Hallmark was one of several holdouts in moving to any streaming platform, making Hallmark holiday movie addicts tied to cable packages if they wanted to safely get their heartwarming Christmas romance fix. While individual channels like Showtime and Starz can now be added on to services like Amazon Prime and Hulu, until recently, the Hallmark Movie Channel was only available in your cable bundle.
Recently, that changed, and now, you can add Hallmark to your Sling TV package. As of October, both Hallmark Channel and Hallmark Movies & Mysteries are available in the "Lifestyle Plus Extra" add-on pack (+ $5/month) to Sling TV's Orange ($20/month) and Blue ($25/month) Services. Sling is a service that allows you to watch live TV anywhere, anytime, using only an internet connection.
Sling TV requires a subscription that would run you either $25 or $30 per month with a basic channel subscription, including the Lifestyle Plus Extra add-on pack. 7-day free trials are currently available.
Netflix/Hulu
Neither Netflix or Hulu offers the option of watching all Hallmark channel wholesale, but select older Hallmark movies (like Pete's Christmas, pictured above) are available on both streaming services. Netflix definitely has no shortage of Christmas programming in general. Currently, both streaming services start at $7.99/month for the lowest-priced, most basic level of service. Both Hulu and Netflix offer one-month free trials for new subscribers.
Feeln
This online subscription streaming service is a part of Hallmark Cards. It has plenty of options for older Hallmark movies, both of the holiday and non-holiday variety. It boasts "the beloved library of Hallmark Hall of Fame features, handpicked Hollywood movies and TV series, and award-winning originals you won't find anywhere else," including A Season for Miracles (pictured above). Feeln is commercial-free and available either online or via iOS, Android, Roku, Apple TV, and Fire TV apps. The service costs $5.99/month on a monthly subscription, or $35.99/year on an annual subscription.
Hallmark Channel Everywhere
Assuming you do have a cable subscription that includes Hallmark, your simplest (and most inexpensive) bet is Hallmark's own "Hallmark Channel Everywhere" app. The app is available on iOS and Android platforms, or you can stream directly from Hallmark's site. Many major cable providers are participating in the app, so if you have cable services like Verizon FIOS, DirecTV, and Optimum and your cable package includes Hallmark, you're all set.
No matter where you are, there are plenty of ways to get a quick boost of holiday cheer by streaming your favorite Hallmark holiday movies from anywhere!