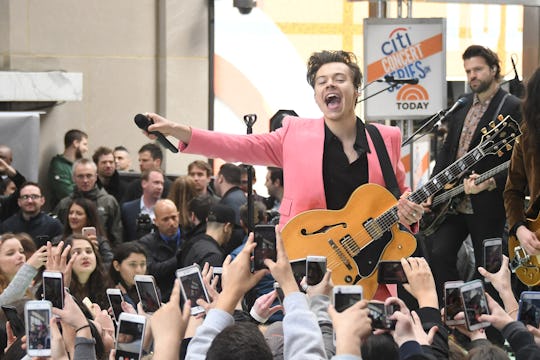 Mike Coppola/Getty Images Entertainment/Getty Images
How To Stream Harry Styles' New Album
If you were heartbroken when One Direction broke up in 2016, you weren't alone. The boy band, beloved by both teens, adults, and their parents alike, knew how to produce a hit. But the split was only the beginning for the members of One Direction, who have since begun putting out music on their own. Fan favorite member, Harry Styles, released his debut album on Friday, which means everyone out there needs to know how to stream Harry Styles' new album.
Luckily for you, streaming Harry Styles' new album, aptly titled Harry Styles, is incredibly simple. Unlike buying tickets for Harry Styles' first solo tour, which sold out in less than two minutes, according to Time, streaming the new album is much easier. Seriously, streaming the 10-track album does not require much thought or skill (which was required in getting tickets to his show). This is because the album is available to stream through your favorite music service — from Spotify to Apple Music. If you're not a fan of either service, you can even stream the full album for free on YouTube through Styles' VEVO account. Really, there is no excuse to not jump on the Styles bandwagon and listen to the album because you can find it practically everywhere. You can even listen to it embedded in this story without having to leave this page. You're welcome.
Don't feel like having to rely on the internet to listen to Harry Styles? The digital album is available to purchase on iTunes and Amazon Music, among other places. If you're one of those people who still enjoys listening to physical CDs (no shame) you can find Harry Styles in stores, as well. Target is currently selling a $20 limited edition version of the album with photos you can't find anywhere else, which is perfect for serious fans of Styles.
Even if you're not a die hard Styles fan, you might want to consider streaming the new album. The album has received generally good reviews and currently has a 71 percent score from Metacritic — not bad for a debut album from a former boybander, looking to start anew. His album isn't like the sound of One Direction; Rolling Stone describes Styles' sound in his first album as "emotional Seventies soft-rock." It appeals to the softer side of One Direction fans and your David Bowie obsessed best friend who might find the songs from the album appealing, too.
Everyone can find something they enjoy in Styles' new album, which can be easily listened to all over the internet.