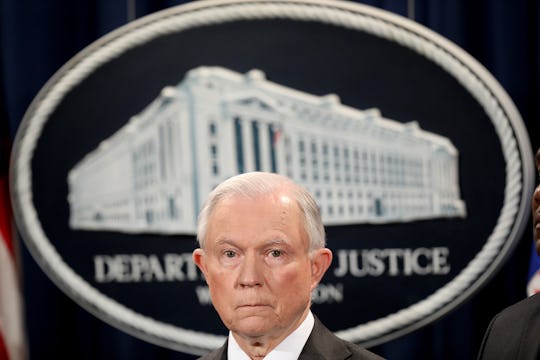 Win McNamee/Getty Images News/Getty Images
How To Stream Jeff Sessions' Senate Hearing
In the wake of Former FBI Director James Comey's tell-all testimony about his recent dismissal, Attorney General Jeff Sessions is set to testify publicly before the Senate committee that is in charge of investigating Russia's alleged interference in the 2016 presidential election. Given that Comey's testimony raked in approximately 19.5 million viewers, it's not surprising that Sessions' scheduled testimony, too, is making waves. If you're one of those viewers looking to live stream Jeff Sessions' Senate hearing, you're in luck.
Following Comey's testimony, which included an awkward recounting of his interactions with Sessions in the White House, the public eye has turned to the attorney general himself. Sessions is set to speak in front of the the Senate Select Committee on Intelligence on Tuesday, June 13, at 2:30 p.m. Eastern Time. The public hearing can be live-streamed on the Senate Intelligence Committee's website.
According to The Atlanta Journal-Constitution, Justice Department spokesperson Sarah Isgur Flores stated that it was Sessions' wish for the hearing to be held publicly:
The Attorney General has requested that this hearing be public. He believes it is important for the American people to hear the truth directly from him and looks forward to answering the committee's questions tomorrow.
During his own testimony, Comey, who worked under Sessions in the Justice Department pecking order, made some serious allegations about why he was dismissed, claiming that it was a direct result of his investigation into the Trump campaign's potential ties to Russia. "I was fired because of the Russia investigation ... to change the way the Russia investigation was being conducted," he stated. "That is a very big deal."
Sessions' testimony will address those alleged ties with Russia, the FBI investigation, as well as whether or not he has committed perjury.
Throughout his confirmation hearings, Sessions denied having any contact with Russian officials. These claims were later proven to be false, as then-Sen. Sessions met twice with Russian Ambassador, Sergey Kislyak in the months prior to the elections. As a result of these findings, Sessions recused himself from any FBI investigations into Russia's alleged role in the 2016 election, stating at the time,
I have decided to recuse myself from any existing or future investigations of any matters related in any way to the campaigns for President of the United States.
Sessions was heavily involved in President Trump's firing of Former FBI Director James Comey. In his role as Attorney General, Sessions oversees the Justice Department and the FBI. His involvement in this matter has raised questions about whether or not he has defied the terms of his recusal.
In failing to disclose the facts about his repeated contact with the Russian ambassador, Sessions may also have perjured himself when he testified under oath that he had no such connections with the Russian government. Investigators are now looking into whether or not there was a third undisclosed meeting between Sessions and Kislyak.
The public will certainly be watching as Sessions goes before the Senate committee this week. Given just how many tuned in to watch Comey's testimony and widespread interest in Sessions' involvement, it's clear that the latter's testimony will also be must-see TV.