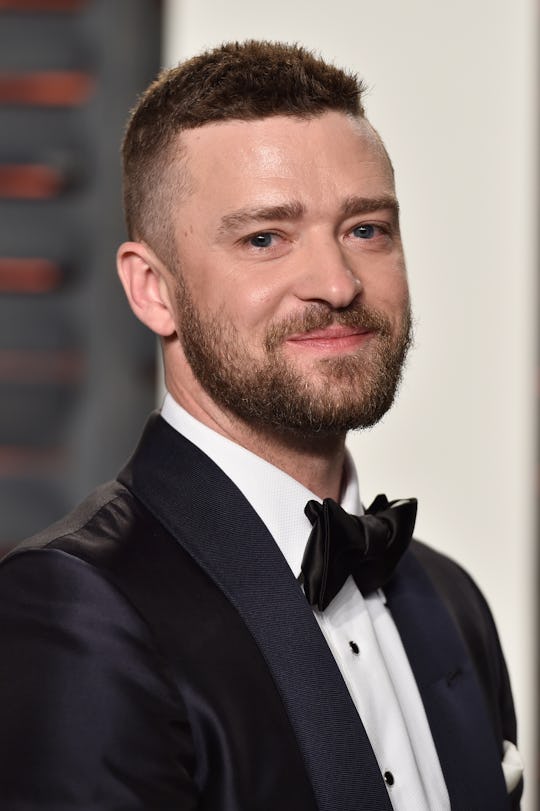 Pascal Le Segretain/Getty Images Entertainment/Getty Images
How To Stream Justin Timberlake's 'Can't Stop The Feeling,' Because This Is A Big Deal
It may have been three years since his last album, but Justin Timberlake just released a new song, and you better brace yourself, because there's no doubt you'll be hearing it everywhere all summer long. "Can't Stop The Feeling" was released Friday, and it definitely lived up to the hype: the upbeat, sunshine-y song is the perfect "get out of your seat and dance" pick-me-up. And the celeb-packed video is pretty awesome too. Want to know how to stream Timberlake's "Can't Stop The Feeling"? Of course you do.
According to Rolling Stone, Timberlake's new offering hit YouTube just after midnight on Friday, following days of teasing and and a 15-second preview on Timberlake's Twitter account (you can also find the song on iTunes, Spotify, and Google Play). The song itself, it turns out, was actually written for the upcoming animated film, Trolls, according to The Hollywood Reporter — a movie that Timberlake has lent his voice to as the character Branch, but also serves as the musical producer for. In a statement back in January, Timberlake said,
I have always envisioned bringing the two worlds of film and music together for one epic event [and] couldn't be more excited that they will collide in DreamWorks' Trolls. This film is very special, the music is going to be very special and I can't wait for everyone to experience it all.
The Trolls connection also explains the multitude of big name cameos in the video for "Can't Stop The Feeling." Anna Kendrick, James Corden, Kunal Nayyar, Gwen Stefani, and Icona Pop are some of Timberlake's fellow cast members who make appearances in the clip, according to the Daily Mail.
So does this mean we can finally expect a new album from Timberlake (it did take him seven years to follow up FutureSex/Love Sounds with The 20/20 Experience, after all!)? According to the Daily Mail, Timberlake's fifth studio album is due out this year, but there's still a lot we don't know about it. For one, what will it sound like?
"Can't Stop The Feeling" is clearly pop-y, happy goodness reminiscent of longtime Timberlake collaborator Pharrell Williams' hit "Happy." But, according to E! News, Timberlake's also been dropping lots of hints about his music taking a country direction — he brought down the house after performing "Tennessee Whiskey" with Chris Stapleton at the 2015 CMAs, and there's photographic proof of Timberlake in the studio with Little Big Town, courtesy of his Instagram account. So, as of right now, it's anyone's guess what to expect from Timberlake's upcoming album.
But really, I think we can all agree that no matter what it sounds like, all that really matters is that Timberlake releases some more new music sooner rather than later. And in the meantime, we'll just be dancing our hearts out to "Can't Stop The Feeling," full Anna Kendrick-style.