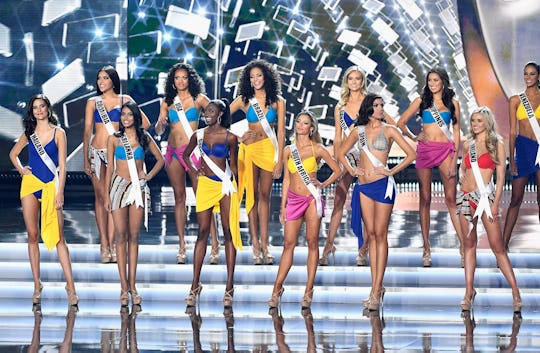 Frazer Harrison/Getty Images Entertainment/Getty Images
How To Stream Miss USA 2018 So You Can See It Live
One of the biggest pageants of the year is here. It's Miss USA 2018! The popular show will be hosted by Vanessa and Nick Lachey, along with TV personality and fashion expert, Carson Kressly, and supermodel Lu Sierra, who will provide analysis. Although the 51 contestants have been doing preliminary swimwear and evening gown competitions all week, the finalists will be unveiled Monday, May 21, and the winner will be chosen. So you'll want to know how to stream Miss USA 2018 and find out who the winner is live.
Since the show will be airing on FOX you can use the network's live stream to watch Miss USA 2018. Although you will be asked to sign in with a cable provider, FOX's live stream does give you a "Preview Pass," which will allow you to watch the live stream for an hour before you're required to sign in. However, since the show is two hours long, it would be best to sign in or find another way to watch. Thankfully, there is another option!
Streaming sites like YouTube and Hulu now offer Live TV packages, which would allow you to stream FOX. If you don't already have a live TV subscription you can do a free trial, which would allow you watch the entirety of the Miss USA 2018 competition. However, if you don't want to keep the subscription, you will have to remember to cancel it before you're charged.
Besides that, you'll have to tune in to FOX in order to watch the pageant live. But no matter how you watch, this is definitely a show you won't want to miss! Although all of the competitors have been competing in the week leading up to the main event, the two-hour event will show the finalists competing in evening gown and swimwear competitions, as well as their interviews. Their scores by the selection committee will then determine this year's winner.
What's really interesting about this year is for the first time ever the selection committee is a diverse group comprised of female entrepreneurs, business leaders, and industry experts -- including former Miss USA contestants. This is quite different than selection committees from years past which consisted of one-off telecast judges. Some of the selection committee members this year include Jamie Kem Lima, CEO of It Cosmetics, Denise White, founder and CEO of EAG Sports Management, Lilliana Vazquez, Emmy Award-winning host and producer, and Crystle Stewart, founder of MISS Academy, and Miss USA 2008.
In addition to the selection committee, viewers at home can also make their voices heard as well. Fans can vote for their favorite contestant throughout the competition on the Miss USA website, with those votes being factored into the selection committee score. Viewers can vote up to 10 times per round. This is another reason why you should definitely watch live, so you don't miss your chance to vote for your favorite contestant.
At the end of the pageant, Miss USA 2018 will then be crowned by Miss USA 2017, Kara McCullough, and the winner will go on to represent the U.S. in the Miss Universe pageant, which will take place later this year. Thus, while this will certainly be a great achievement for the winner, this is only the beginning for Miss USA! However, to win this honor is still exciting and it'll be interesting to see who walks away with the 2018 crown.
The best way to find out who wins is to watch Miss USA 2018 live, so whether you watch a live stream or check it out on FOX, make sure to tune in on Monday night at 8 p.m. EST.