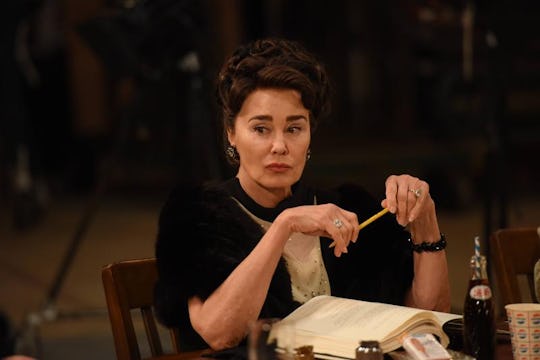 Prashant Gupta/FX
Joan Crawford's Daughter Made A Movie About 'Mommie Dearest'
The first installment of Ryan Murphy's latest anthology series Feud is coming to an end and while fans loved it, they're now wondering about the stars that were the basis of the show. The first season followed the feud between iconic actresses Bette Davis and Joan Crawford, but this feud wasn't the only one Crawford was part of. Her daughter Christina Crawford wrote the book Mommie Dearest, which alleged her mother was abusive, and as is often the case, the book was then turned into a movie. For those who are curious, here's how to stream Mommie Dearest.
In the iconic film, Oscar winner Faye Dunaway played the role of Crawford and many agree it was terrifying to watch. You can see for yourself by watching the film, however, it's unfortunately not available for streaming at the moment. Still, you can rent the movie on Amazon or iTunes for only $3.99 or you can buy it outright for only $13.99 on Amazon and $14.99 on iTunes, if you think you'll watch it more than once.
The film follows the story of the tell-all memoir, in which Christina, Crawford's eldest adoptive daughter, claims the actress was an alcoholic and abusive mother who was prone to fits of rage. According to The Hollywood Reporter, the mother-daughter relationship was already rocky prior to the release of the memoir. In 1968, then 29-year-old Christina took a medical leave of absence from her CBS soap The Secret Storm and her mother ended up taking her place, thus beginning the public downfall of their relationship.
The book wasn't published until a year after Crawford's death, but it was said that she knew of the book and both Christina and her brother Christopher were omitted from Crawford's will, "for reasons they knew." Both Christina and Christopher later contested the will and won.
Maybe it was because Crawford couldn't defend her own actions, but the book severely marred her reputation, though many have come to the defense of the legendary actress over the years. According to The Guardian, Crawford's first husband Douglas Fairbanks Jr. and actress Myrna Loy were amongst Crawford's supporters. Additionally, her other adopted children, twin sisters Cathy and Cindy, also publicly claimed Christina lied, saying their mother was firm but never abusive. In 2008 a new biography of Crawford was even released, titled Not The Girl Next Door by Charlotte Chandler, which included interviews with Crawford in which she accused Christina of ingratitude.
Whether you believe Christina's allegations or not, Dunaway's depiction of Crawford is one to behold and definitely worth a watch. There's a reason it became a cult classic after all.
The finale of Feud airs on Sunday, April 23 at 10 p.m. ET on FX.